Content
German Sustainability Action Days

Germany sets the tone for more sustainability
How will students get to school in 2050? What does a sustainability auditor do? And what could a CO2-free energy supply look like? You will get the answers to these questions at the "German Sustainability Action Days", which will take place from September 20 to September 26. The aim of the Action Days is to make exemplary commitment visible throughout Germany, to attract public attention to the topic of sustainability and to motivate more people to act in a resource-saving manner. Private individuals, companies and also public authorities can take part. On the website

www.tatenfuermorgen.de you will find more than 1,500 campaigns, which will take place during these autumn days throughout Germany, both locally and online.
The

German Council for Sustainable Development has launched the German Sustainability Action Days on the occasion of the United Nations World Conference on Sustainable Development (Rio+20) in 2012. Since 2015, they have been held as part of the European Sustainability Week, an initiative founded by Germany, France and Austria.
German Patent and Trade Mark Office acts sustainably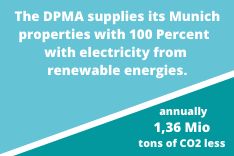 The German Patent and Trademark Office (DPMA), as a federal authority within the business area of the Federal Ministry of Justice, is also committed to society. If, on the one hand, we want to grant industrial property rights for modern technologies, on the other hand, we have to convince society by acting sustainably on the way to achieving this goal. This is part of our self-image.
Sustainability is a major objective. Achieving this goal requires commitment and workable concepts in order to get a little closer to this goal every day. We have already taken the first successful steps. We save electricity and paper, use modern means of communication, support energy-friendly mobility concepts, pay attention to sustainable aspects when awarding public contracts and already work digitally to a large extent. You can find out more on our "We act sustainably" page and in the current

Sustainability Report of the Federal Ministry of Justice and Consumer Protection.
Agenda 2030: 17 goals for sustainable development
With the Agenda 2030 adopted in 2015, the international community under the umbrella of the United Nations has committed itself to 17 global goals for a better future. The guiding principle of Agenda 2030 is to enable a dignified life worldwide and at the same time to preserve the natural foundations of life in the long term. This includes economic, ecological and social aspects. Agenda 2030 emphasizes the joint responsibility of all players: politics, business, science, civil society - and of each individual. You can find out more about this in the German government's information campaign

"The Glorious 17: Goals of Sustainable Development".

Picture 1: Bundesregierung, Picture 2: DPMA
Last updated: 17 October 2023