Inhalt
Events
Long Night of Sciences Jena
Join us on a discovery tour through Jena to the 6th Long Night of Sciences (LNdW). On this day, the Friedrich-Schiller-University and the University Hospital Jena, the Ernst-Abbe-Hochschule, the Beutenberg-Campus with its numerous institutes and scientific and research institutions as well as the research-related Jena-based business enterprises present themselves as close to the public as rarely before. From the "particle accelerator to touch" to the "license to solder" - with the LNdW 2017 you can experience research and science in a vivid way. The German Patent and Trademark Office is also involved and provides information on how you can protect research results and innovations. You will find us in the foyer of the lecture hall building of the Friedrich-Schiller-University Jena, area 2, Carl-Zeiss-Straße 3.
The complete program for the LNdW 2017 can be found here.
---
The DPMA as an information hub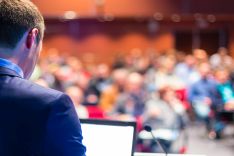 As the central institution for the protection of intellectual property in Germany, the DPMA is regularly present at numerous trade fairs, exhibitions, conventions and conferences.
The focus is particularly on the following topics:

information of the public, particularly the small and medium enterprises, individual inventors as well as the academic field, about industrial property rights
presentations showing the significance of intellectual property
information about the options of e-filing at the DPMA and electronic search
information about counterfeiting and piracy
collecting feedback on our work by the different groups of customers
The DPMA is often present at the national leading fairs together with the central unit for IP protection of the customs services (Central Customs Authority) and other public authorities.
Whenever possible, the DPMA is cooperating with the patent information centres of the respective region at important events at regional level.
Moreover, we offer multiple workshops on how to use our databases and search tools in the Munich and Berlin offices each year. The workshops are particularly targeted at the staff of small and medium enterprises without or with little previous experience.
Picture: iStock.com/Matej Kastelic
Last updated: 23/11/17