Inhalt
Events

Information at first hand

Would you like to know how to search for patents, trademarks and designs? Or whether it makes sense for small and medium-sized companies to apply for IP rights at all? Then come to our workshops in Berlin and Munich or ask us at one of the trade fairs we take part in this year.
In addition, in cooperation with our partners (e.g. the patent information centres and industrial property rights organisations) we offer you further events focusing on patents, trademarks and more.

---
Workshop: Intellectual Property Protection for Artificial Intelligence and Robotics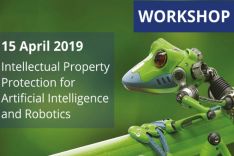 On 15 April 2019, the DPMA will hold a workshop on " Intellectual Property Protection for Artificial Intelligence and Robotics". It is aimed at professionals with a legal background and anyone with a technical interest in robotics and artificial intelligence. Organisers are Page White & Farrer, the German Patent and Trade Mark Office (DPMA) and RAILS (Robotics & AI Law Society).
The workshop will deal with the protection of software-based inventions and aspects of technical developments in the field of artificial intelligence and robotics, and will also examine the requirements for patentability of software-related inventions. Specific examples for patents in the field of AI and robotics as well as a possible increase of company value with the right patent strategy will be discussed.
The workshop will take place from 16:00 - 18:30 at the DPMA-Forum in the main building at Zweibrückenstraße 12, 80331 Munich. You can register by sending an email to: register@ai-laws.org.

---
Trainings in Berlin and Munich
Our staff in Munich and Berlin regularly offer practical workshops on the search for IP rights in the DPMA's in-house databases. The training courses are aimed particularly at small and medium-sized enterprises (SMEs) who want to learn more about intellectual property rights.

The DPMA at trade fairs

Why are industrial property rights important? We are happy to answer this question - especially at trade fairs.


Picture: iStock.com/Matej Kastelic
Last updated: 26/03/19