Content
Death of Sean Connery

EM009655168
James Bond: Brands and technology in Her Majesty's Secret Service
Bond is dead
Only a few weeks after his 90th Birthday, Sir Sean Connery has passed away. To his memory we now dedicate this article which was originally published to celebrate his birthday in August.
He was the first and (for most) best performer of James Bond: Sir Sean Connery, who celebrated his 90th birthday on 25 August. All through his life, Connery had a love-hate relationship with the role of the secret agent in the service of Her Majesty, who became an icon of pop culture: as an actor, he felt underchallenged and confined by it, but at the same time he owed fame and fortune to it. Because "James Bond" - armed with industrial property rights and secret weapons - stands for one thing above all else: a lot of money.
From coffin polisher to superstar
In his home country and far beyond, everyone knows the stories from the youth of probably the most famous living Scot: Thomas Sean Connery, born in 1930 in a working class district of Edinburgh, worked as a milkman, nude model and coffin polisher as a young man, joined the Navy, did bodybuilding and almost signed a professional football contract. A tall fellow - "Big Tam" (Tom), as his friends called him - athletic, charming and outrageously good-looking, he had all the prerequisites for a film career.
But there were two little hitches: his Scottish accent and the untimely thinning hair. Connery, a fervent Scottish patriot, made the accent his personal trademark; while as Bond actor he wore a toupee from the very beginning.

Macho and world saviour

When he got the role which should stamp his life he was still a widely unknown small part actor. Nevertheless he knocked the big names that were traded at that time (Cary Grant, Marlon Brando or - at that time already - Roger Moore) out of the field. Ian Fleming, the author of the novels, is said to have been not enthusiastic at first. But the producers wanted Connery. After the success of the first film ("Dr. No", 1962), Fleming was finally convinced and even made Bond half-Scottish in his next book.
There is even a biographical similarity between Connery and the literary figure James Bond: both were at the venerable Fettes College in Edinburgh. Bond as a student, Connery as a milk delivery boy.
Sean Connery played the double-0 agent as an athletic, charming macho with a disarmingly dry sense of humour and a penchant for cynicism and brutality. He saved the world with style, drove expensive cars with tricky extras and had a string of beautiful women who often wanted to get their hands on his clothes and lives. This usually meant the end of them, as Bond had little more moral scruples than the super villains he fought in the service of MI6.

Who owns Bond
Fleming had written his first James Bond novel "Casino Royale" in February 1952 and then produced further books about the agent with a license to kill in rapid succession. When it became known that "From Russia with love" was one of President Kennedy's favorite books, the series quickly took off. Fleming wrote twelve James Bond novels and nine short stories before he died unexpectedly in 1964.
Harry Saltzman had bought the film rights to the Bond novels in 1961 and founded Eon Productions Ltd. with a financially strong partner, Albert R. Broccoli, to produce the Bond films. As Eon's parent company, the two founded the company Danjaq, named after their wives Dana and Jacqueline. Danjaq LLC in Santa Monica, California, still owns the rights to all the brands surrounding James Bond.

Penny dime novels become a socio-cultural phenomenon
The Bond producers gradually turned all the Fleming material into films and then commissioned other authors to supply new material. In 1975 Saltzman sold his share of Danjaq to the film company United Artists, now part of the Sony group. Broccoli bequeathed his rights to his stepson Michael G. Wilson and his daughter Barbara Broccoli, who have been producing all Bond films since the 1990s.
James Bond is the longest existing and at the same time one of the economically most profitable film series in history. In the ranking of the most successful film series, Bond has fallen back to fourth place in recent years (after the Marvel films, Star Wars and Harry Potter). The total box-office earnings of all films are estimated at over 16 billion dollars after adjustment for inflation. Many Bond films were the most successful films of their release year, e.g. "Goldfinger", "Diamonds are forever" or "Moonraker".

007 and the brands
Brand protection naturally plays an important role in this billion-euro market. Danjaq has secured "James Bond" and "007" in various forms and Nice classes as trademarks, e.g. DE 1161425, EM000251918, EM001205137, EM002461150, EM012210936, EM017010984, DE1189162 or EM000316703.
The names of all Bond film titles are also protected as trademarks, e.g. "Dr. No" (EM 004810438), "Spectre" (EM013530555) or "Skyfall" (EM010391324). However, usually only the English original title is protected, not the German version. An example: "Quantum of Solace" is protected as a trademark (EM006644751, 006648257), but the German title "Ein Quantum Trost" is not. In this respect, the economically even more successful "Star Wars" makers went a step further; they also partially secured the German versions. The latest brand to date is "Double OO" (double zero), which Danjaq registered only a few days ago (EM018262472).
Some 007 film titles were only secured as word marks years later, such as "Octopussy": the film is from 1983, the trademark from 2005(EM004812401). "Goldfinger" from 1964, the best film in the series for many (with Connery, of course!), was not registered as a trademark in Germany until 2003, and as an EU trademark not until 2015(DE303464453, EM014737407).
Shaken, not stirred
Early on, namely on 20.8.2019, "No time to die" (EM018110747) was registered, the title of the current film with Connery's post-successor Daniel Craig. Due to the Corona Pandemic, the theatrical release planned for April 2020 has been postponed to November.
Danjaq has secured several other brands around 007. Even "Shaken not stirred" (the Martini), Bond's preferred drink preparation, is a word mark (EM015842156). The octopus logo of the criminal organization "Spectre" is also registered as a word/picture trademark (EM013847371). Even "Bond Girl 007" is registered (EM000251900). And if you want to speculate what a future Bond movie might be called, it's worth taking a look at Danjaq's other word marks: "Devil may care" (EM006570741) would make a good movie title, for example...
Incidentally, Sean Connery did not register his own name as a trademark until 2015 (EM014182232). A German company has registered "Sir Connery" as a trademark for beverages (DE304636584).

Bond and the Technology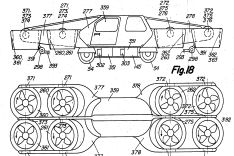 Bond-style: GDR patent of 1975 - "Vehicle, especially aircraft with hydrostatic drive of several propellers" (DD116178A5)
One of the most important elements of all Bond films are extraordinary inventions: Secret weapons, fancy cars with optional extras and gadgets such as magnetic watches that can disarm enemies or open zippers on women's dresses. Without "Q", his master-at-arms, who always supplies him with the latest miracle inventions, Bond would not have been able to survive numerous dangerous situations unharmed.
Some of the techniques used in the films were utopian gimmicks. Most of it, however, reflected the state of the art or anticipated it. In any case, real-life agents took Bond very seriously: a former KGB agent later said that the films had been carefully analyzed because it was assumed that the Western secret services already possessed everything that could be seen in them.

Laser saw and rocket backpack
In any case, James Bond also inspired inventors in the Eastern Bloc, as the futuristic flying car in GDR patent

DD116178A5 (3,28 MB) shows: "Vehicle, especially aircraft with hydrostatic drive of several propellers".
Sometimes the filmmakers were way ahead of their time: In "Goldfinger" (1964) villain Gerd Fröbe wants to cut Connery up with a laser beam (in the novel it is just a circular saw). The first laser had only been developed just four years earlier by Theodore Maiman(

DE1564240B). And it was to take more than 30 years before a laser of this strength was available.
In "Fireball" (1965) Bond-Connery escapes from a castle with a rocket backpack. In the following year the patent for the "Personnel Propulsion Unit" was granted (

US3243144A (1,16 MB)). However, this "jetpack" proved to be so difficult to control that it did not return to public use until 1984, when a "Rocketman" flew into the stadium at the opening of the Olympics in Los Angeles.

Smart watches, fast cars

Already two years before the launch of the first NASA space shuttle, Bond flew into space in "Moonraker" (1979) on a space glider - to a space station as it only became reality with the "Mir" in 1986.
Bond was wearing multifunctional watches long before the first "Smart Watch" was launched: In "The Spy Who Loved Me" (1977), Roger Moore's watch prints out a telex, in "Octopussy" he can watch television with it and - one of the typical sexist gags of the series - zoom into a colleague's cleavage. One of the earliest Smart Watch patents is

US6477117B1 (1,31 MB).
In 1965, when Sean Connery had to dive in a pool full of sharks for "Fireball" (putting himself and his stuntman in mortal danger!), Bond used a kind of mini-diver bottle the size of a ballpoint pen. More than ten years later, "Spare Air" was launched, an emergency breathing apparatus for divers - much larger than Bond's gadget, but still quite small.

Little Nellie's heirs

Foldable mini helicopters like the one Bond-Connery flew in 1967 in "Man lebt nur zweimal" are now generally available for purchase. "Q´s" suitcase helicopter was called "Little Nellie", it´s successors are called gyrocopter or else (see e.g. the "Tragschrauber" by AutoGyro,

DE102018104192A1).
A kind of on-board navigation device was already built in Bond's legendary Aston Martin DB5 in "Goldfinger" from 1964, but it took until the 1980s before the first devices appeared on the market (one of the first patents was

DE3005101C2).
Sometimes things went quickly to market: In 1977 Roger Moore raced on a water motorcycle towards world rescue, the year after the "Wetbike Watercycle" was launched. The "motorcycle-like water glide vehicle"(

DE2539315C3) was patented for Germany in 1978. Today, jet skis belong to every decent water sports resort.

Science fiction? Facts!
The invisible car that Bond scraped in "Die Another Day" (2002) seemed to many to be pure science fiction. But this is not so: Not only in the military there have been test vehicles for some time now, one side of which is covered with LED plates on which the camera images of the surroundings can be seen - the tank is then practically invisible.
Personalized weapons that only their owner can use are now well on the way to becoming standard (see e.g. "Personal Smart Gun",

WO002019052621A2). Daniel Craig's personalized Walther PPK in "Skyfall" was therefore more "science fact" than "science fiction", just as Bond producer Broccoli had wanted it to be from the beginning.

Connery's return: A trademark tightrope walk
Back to the jubilarian, Sir Sean: After Connery had played the secret agent in five extremely successful films (to this day, adjusted for inflation, he is still the most successful Bond actor at the box office), he didn't feel like it anymore and quit. But soon he let himself be persuaded again and returned after the hapless George Lazenby as an actor in "Diamonds are forever".
A decade later he slipped into the role again - one should never say "never again" - but outside the "official" Bond series of Eon and therefore to the biggest trouble of the traditional producers he had fallen out with. His aging Bond in this film is considered by many to be the best portrayal of the character. All trademarked elements of the official Bond films such as title music (sound mark EM018168977), logos or the famous look through the gun barrel in the opening credits (EM009655168 and more recently as motion and multimedia marks EM018168980 and EM 018168983) were not allowed to appear in "Never say never again". Eon would have preferred to prevent the film´s release completely. In terms of content, the film was a remake of "Fireball", which was only possible due to a complex copyright constellation and only after various legal disputes.

A Scottish icon
In the beginning autumn of his acting career Connery landed some of his biggest successes, mostly in the role of the age-wise, self-ironic mentor (Highlander, Indiana Jones, The Name of the Rose). In 1989, at the age of almost 60, he was voted "Sexiest Man alive", which he commented with his typical dry humour: "Well there aren't many sexy dead men, are there."
The British Queen, in whose service he had been as James Bond, finally knighted him (despite his commitment to the Scottish independence movement). He received several honorary doctorates in literature, won the "Oscar" and - for him the most important award - the honorary citizenship of Edinburgh.
In selecting his last movie roles, he made some unfortunate decisions (he rejected Gandalf in "The Lord of the Rings", but instead acted in bad comic adaptations). In 2003 he retired completely from the film business and could not be lured out of retirement.
In the last years it became very quiet around him. The world celebrated the actor once more on the occasion of his 90th birthday this August. A few weeks later, he died.
Rest in peace, Big Tam!

Pictures: DPMAregister, Rob Mieremet CC by SA 3 NL Creative Commons via Wikimedia, DEPATISnet, Stuart Crawford CC by SA via Wikimedia Commons
Last updated: 17 October 2023