Inhalt
Munich Oktoberfest cancelled

DE102010030284B4
Serious drinking: Beer and IP
Normally, millions of visitors would be pouring millions of liters of beer into themselves in Munich right now. But since everything is different this year, the Oktoberfest was cancelled. No "Ozapfd is!", no beer tents, no Wies'n, nothing. But so that even in the pandemic year it is not completely forgotten that it would actually be the peak beer season, we take another look at the property rights surrounding an ancient cultural asset that is constantly being developed further.
The tables are currently further apart, but little else has changed: Max Liebermann, "Munich Beer Garden" (1883)
Only breweries resident in Munich are allowed to put up a tent at the Munich Beer Fest (Oktoberfest). Although breweries often place great value on their traditions, today the most modern technology is behind one of the oldest drinks of mankind. The oldest brewing recipe is around 5000 years old, but the production process is constantly being technically optimised. This is shown not least by the number of patent applications relating to the brewing process received by the DPMA. The more recent applications include, for example,

DE102018130010A1, which aims to increase the leaching effect of the mash (also

WO002020109142A1 (1,17 MB)).

DE102019118935A1 proposes a brewing process for a bottom-fermented, light-coloured beer, which is intended to achieve a "significantly higher content of minerals".

DE102018124768B3 proposes wood particles as brewing additive to achieve the taste of a beer stored in a wooden barrel.
A new "Apparatus for efficient cooling in breweries" is described in

WO002019048662A1 (1,56 MB);a "Process and apparatus for precoat filtration of an unfiltrate"

DE102017100640A1).
For although the ancient Sumerians and Egyptians were already brewing beer, although the Celts already knew different types of beer and although the Bavarian Purity Law is already 500 years old - people are still working hard to improve beer production.

New brewing inventions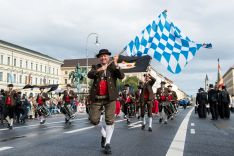 When the (beer) world was still fun: Parade in traditional costumes celebrating the start of 2018´s Oktoberfest
One example is the "Procedure for time-optimised maturing of beer intended for export overseas" (

DE102016006270A1): with the help of special transport containers the beer matures on board the transport ship. This enables the brewery to get its young beer on its way more quickly without having to artificially shorten the maturing time in the brewery for cost reasons or to elaborately preserve the beer in order to prepare it for the long journey overseas.
The eye drinks along: For many beer connoisseurs a nice head is important. Therefore

DE102010030284B4 proposes a new "Procedure and arrangement for stabilising the froth of beer".
An important trend in recent years has been towards non-alcoholic or low-alcohol beer, the taste of which is still being worked on, for example with the "Procedure for reducing the alcohol content"(

EP2921550B1).

Thirst for beer in Germany declines, exports increase
In 2019, German breweries sold around 9.2 billion litres of beer. As reported by the Federal Statistical Office (Destatis), beer sales thus fell by 1.9% or 177.9 million litres compared to the previous year. The trend has been declining for years: since 1993, beer sales have fallen by a total of 2 billion litres or 17.8%. Domestic sales have even fallen by 27.6 % during this period.
However, exports have more than doubled (+132.0 %). The Bavarians in particular export a lot of their "liquid bread": 23.3% of Bavarian beer production goes abroad (from the rest of the republic only a good 17%). Incidentally, the most important buyer country is Italy.
"Bayerisches Bier" (312012000102.4) is protected by the DPMA as a geographical indication of origin, just like "Münchener Bier" (302009000100.5), and can therefore be marketed as a regional speciality, similar to Parma ham or champagne.

Who can drink most?
In 2019 Germans drank an average of 91.8 litres of beer per capita and year (a total of 76,284 hectolitres). This still puts them well ahead of the international average. However, the Czechs have been leading the way for years: With an average of 143 litres of beer in 2017, they still are the world's lone leaders.
However, Germany - and especially Bavaria - is in the lead in terms of diversity: there are said to be around 6000 different German beer varieties - and the trend is rising rapidly. This means that you could try a different German beer every day for 16 years. If you search the DPMAregister for all trade marks relating to "beer", you will get more than 60,000 hits! Many beer trade marks have expired (e.g. "Münchner Schlossbräu"), but new ones are constantly being added. One example is EM 018064803.
Over 1500 breweries in Germany!
In 2019 there were 1 548 breweries in Germany. About 40 percent of them, 647, were located in Bavaria, according to the Bavarian Brewers' Association (Bayerischem Brauerbund).
In addition to the International Beer Day, which has been celebrated worldwide every first Friday in August since 2008, there is also a German Beer Day (Tag des deutschen Bieres). It is celebrated on April 23rd to commemorate the 1516 Bavarian state order, which stipulated that only hops, malt, yeast and water belong in beer - the birth of the purity law. Cheers!

Pictures: DEPATISnet, DPMAregister, Max Liebermann / Public domain via Wikimedia commons, www.bayern.de
Last updated: 20 October 2020