Content
Apollo´s women

JoAnn Morgan was the only woman who worked in the control room during the launch of Apollo 11 in 1969.
Heroines in the background of the moon landing

He would have celebrated his 90th birthday on August 5: Neil Armstrong, the first man on the moon. His "small step" 51 years ago was a milestone in world history.
Everybody knows the name of the first man on the moon. The second moon man´s name - Edwin "Buzz" Aldrin - is also still well known until today. Even the name of the third crew member Michael Collins, who remained in the spaceship in the moon orbit during the moon landing of his colleagues, is still well known to many today. But only a few people knew until recently that some women had also played a decisive role in the millennium project of the lunar landing. In recent years, the names of some of these heroines have become known to a wider public. The DPMA presents some of them in a small series.
Over 400,000 people participated in NASA's Apollo programme, including many women. Back in the 1960´s, science and technology were even more male-dominated than they are today. But some women held key positions in the Apollo program. Most of them worked anonymously behind the scenes; Frances "Poppy" Northcutt was one of the few women involved who came into the public spotlight at the time.

Return to the Moon?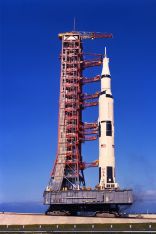 Saturn V rocket before launch to the moon

After the sensational first moon landing, the USA brought a total of ten astronauts to the moon in five further Apollo missions - all men. It was not until 1983 that NASA sent the first female astronaut Sally Ride into space, The Russians, on the other hand, had already brought the first woman into space 20 years earlier: Valentina Tereschkowa.
In 1972, NASA ended its Apollo programme in favour of other projects such as Skylab and the Space Shuttle missions. The programme cost 25.4 billion dollars at the time (that would be about four times as much today). At that time nobody would have expected that there would be no more moon landings for more than half a century.
Meanwhile, NASA has announced that it will return to the moon until 2024. And then finally a woman should get there, too.

Series "Apollo's Women - Heroines in the Background of the Moon Landing"


Series of short portraits on the 50th anniversary of the moon landing
Pictures: NASA, Wikimedia Commons, University of Illinois
Last updated: 10 September 2021