Content
Cube sugar

An invention that sweetened everyday life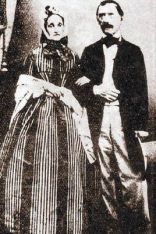 Jacob Christoph Rad and his wife Juliane
Now that's a sweet story: Because his wife is said to have injured herself while breaking sugar, Jacob Christoph Rad invented cube sugar.
Until then, sugar could only be bought in the shape of cones or loafs. These sugar loaves were up to 1.50 metres high and rock-hard. Those who wanted to sweeten their coffee with it needed tools: hammer, tongs, sugar crushers. A tiresome and not completely harmless drudgery!
When Juliane Rad injured her hand in 1843 while breaking sugar (probably not for the first time), she asked her husband to finally do something to get sugar into a user-friendly form. Jacob Christoph Rad (25.3.1799-13.10.1871) was exactly the right person to ask, because he managed a sugar factory in Datschitz (today Dacice, Czech Republic).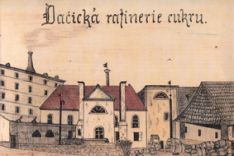 The sugar factory at Datschitz (Dačice) that Jakob Christoph Rad headed 1840-46
The pharmacist experimented with a form that resembled today's ice cube trays and into which he filled moistened sugar mass, had it pressed and dried. Thus, Rad found a way to produce sugar in the form of cubes. On 23 January 1843 he was granted an imperial privilege, i. e. a patent. The product came onto the market as "Thee-Zucker" or "Wiener Würfelzucker" and became a success - until today.
Since then, the process for producing sugar cubes has been continuously improved. In essence, a rotary press is still in use today, as developed by Louis Chambon in France in the 1940s and

patented in Germany in 1950. Up to the present day, improved processes have been applied for patents again and again, such as those filed by

Peter Joseph Hendriks in 2011. Portioned sugar or sweetener units are also an area where new IP rights are constantly being filed, e.g. "sugar bar unit" (

DE202019103195U1) or "sweetener body for beverages" (

DE202015001303U1).
In recent years, cube sugar - which has long since been available in other forms such as hearts or clover leaves - has become somewhat out of fashion compared to the castor sugar sachet. But it remains a constant in our daily diet - for example, if we want to illustrate the sugar content of certain foods: A bottle of ketchup contains 46 cubes of sugar on average, a pack of wholemeal muesli 45, a litre of Cola 31, about 30 cubes in a can of pineapple and about 21 cubes in a fruit butter milk.
By the way, a sugar cube has about 12 kcal/50 kJ, weighs 3 grams and with its edge lengths of 16/16/11 millimeters it is actually not a cube but a cuboid.
Text: Dr. Jan Björn Potthast, Pictures: iStock.com/paolofur, via Wikimedia Commons, via austria-forum.org
Last updated: 7 November 2022