Content
The screw stud shoe: Who invented it?

Salot, Dassler and the "Miracle of Bern"
To this day, a football legend persists: Adi Dassler, so the tale goes, made a decisive contribution to the "Miracle of Bern" with the screw-in studs he invented. It's true that the German team was better equipped for the rain-wet turf in the Wankdorf Stadium in the final of the 1954 World Cup thanks to changeable studs and was thus able to gain a technical advantage over the highly favoured Hungarians. But Adi Dassler did not invent the screw-in studs at all. On 30 August 1949, Alexander Salot applied for a patent for "football boots or the like with replaceable anti-skid studs" (see our "

poster", in German only).
Patents on and off the "fever pitch" (in German language only)
Alexander Salot, born in 1907 in Schönowitz in Upper Silesia, completed an apprenticeship as a shoemaker. After that he moved to Blumenthal near Bremen, where he became co-founder and football player of the Arbeitersportverein Neu-Rönnebeck. Already then, he was said to have come up with the idea of the screw studs, as the studs nailed to the soles of the football boots at the time caused them to wear out very quickly. However, Salot was only able to pass the master's examination after the war. In 1947 he started his own business as a shoemaker. At the same time he took over the sports management of the Blumenthaler Sportverein.

From the garden house to the large stadiums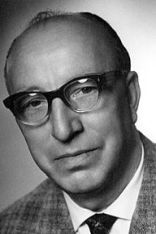 Alexander Salot
"At the end of the 1940s he even had an employee," his son recalled later, "and I helped out after school. At first we produced shoes and studs in our laundry room, later in a small garden house built by a carpenter friend of ours. Our tools: a sewing machine, a cleaning machine, nails and presses".
For his soccer team, Salot developed shoes with replaceable screw studs, which were also considerably lighter than the football boots usual at that time: at around 350 grams, they weighed at least 100 grams less than the shoes usual at that time. The Blumenthal team had been playing with these modern shoes since 1947 and promptly became Bremen champions three times in a row.
"For years, the active soccer player and master shoemaker had been bothered with the boots of his Blumenthal sports club colleagues," reported "

Der Spiegel" as early as 1950 about Salot's invention. "'The repeated nailing of the studs made the soles more and more fragile, and the right studs for the next game weren't sitting under them after all', Salot complains. 'One downpour, one frosty night - and the condition oft he pitch changes completely.'"

Exchangeable cleat for all weather conditions

Salot developed a light metal insole with threaded sleeves attached to propeller-like flanges under the outsole, threaded the studs and screwed conical, flat cylindrical, high or low studs into the football boots depending on the field conditions.
Salot registered his invention on 24 August 1949 with the "Patent Office Darmstadt" (the German Patent Office did not start work until 1 October in Munich). On 9 August 1951 he was granted the patent

DE 815 761B ("Football boots or the like with replaceable anti-slip cleats") with effect from 30 August 1949.
Soon his customers included national players such as Herbert Burdenski. Around 1950 Salot hoped that in the next few years some English clubs and all West German league clubs would play with his "plus-point boots" (as he called them).

Herberger and Herzogenaurach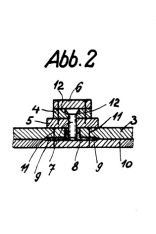 Detail from Salot´s patent DE815761B
That it didn't happen was probably due to the overwhelming competition. In 1948, the quarreling brothers Adi and Rudolf Dassler each founded their own companies for sporting goods in Herzogenaurach, which quickly became successful worldwide: Adidas and Puma.
On 21 November 1952, Adi Dassler registered a utility model with the cumbersome title "Socket with through tapped hole for mounting studs under the sole of a sports shoe"(

DE1737733U) with the German Patent Office. He engaged Germany´s national team manager Sepp Herberger as a consultant for his company, became outfitter for the national team and was later able to knit the legend that the "Miracle of Bern" was also due to "his" invention - the screw stud shoe.

The screw cleat football shoe has many fathers
In retrospect, it is difficult to understand why Alexander Salot, who died in 1992, did not try to defend his patent. However, it must be noted here: Salot, too, was not the first inventor to apply for a patent for replaceable studs. Here are a few examples (more can be found here):
As early as 1925 Ludwig Wacker was granted a patent for a sole with leather strips with threads for screw-in studs made of leather discs( DE 443 311).
In 1929 the Frenchman Adrien Morisse received a US patent for a sole with screw threads for interchangeable studs (Bottom for football shoes, US 1797668 A).
In 1930, Venustus Eigler filed a patent application for a "replaceable stud consisting of several leather discs fixed to a base plate with a metal pin and easily replaceable when worn" ( DE 530 454).
These and many other inventions around the football and their stories can be found in our extra page Fußball und Technik (Football and technology"). With explanations, comments and many electronic patent documents, it sheds light on the history of football technology from the first leather balls to the VAR.
Pictures: iStock.com/xixinxing, via Wikimedia Commons, DEPATISnet
Last updated: 14 September 2023