Content
Three-point safety belt

Volvo advertisement, ca. 1970
The life-saver that was only slowly accepted
This invention has saved the lives of countless people: On August 29, 1958, a patent application was filed in Sweden for the Three-point safety belt (see

DE1101987B). Nils Ivar Bohlin, engineer at the car manufacturer Volvo, thus brought the safety belt for vehicles, which had then been known for over 50 years, into its current form.
Bohlin (1920-2002) originally worked as an aircraft engineer at Saab, where he dealt with ejection seats and the corresponding belts for pilots, which led to some patents (e.g. device for aircraft ejection seats

DE 1022096B). Volvo enticed him away so that he could develop a suitable safety belt for cars.
Until then, no belt system had become established in car construction. The first patent for a safety belt was granted as early as 11 May 1903: Gustave-Désiré Leveau received it in France for its four-point belt (FR331926).
Even the very first safety belt already saved lives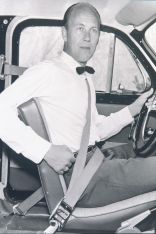 Nils Ivar Bohlin with his three-point belt, 1959
The year before, a safety belt was presumably used for the first time in a car during the tragic record attempt of the "Baker Torpedo" on Staten Island near New York on 31 May 1902: the race car crashed and two spectators died, but the two drivers survived - thanks to their safety belt.
Various belt systems from the simple two-point lap belt to the complicated six-point belt in racing cars were known when Bohlin filed his invention. But its three-point belt, which "holds both the upper and lower body in a physiologically favourable manner and is easy to connect and disconnect", was both safe and easy to handle. It marked the beginning of a new era in road safety. The Volvo 544 was the first car with a standard three-point belt to be launched in Sweden in 1958. As early as 1961, more than three-quarters of all new cars there had safety belts.

Slow start to a new era of road safety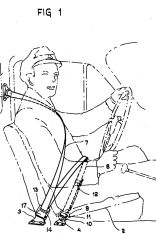 Drawing from US3043625A
From today's perspective, it is hard to understand why it still took so long until driving with a seatbelt became normal in this country. Since January 1, 1974, all new cars in Germany had to be equipped with safety belts. However, the compulsory use of seat belts introduced in 1976 was inadequately accepted for a long time. There were many critics who sensed a restriction of personal freedom or considered the security effect to be insufficiently proven.
Only when driving without a seatbelt was punished with a fine of 40 Deutschmarks since August 1, 1984 the seatbelt wearing rate rose from around 60 to over 90 percent. The positive development of road accident victim statistics soon silenced the skeptics.

Countless new patents in the field of road safety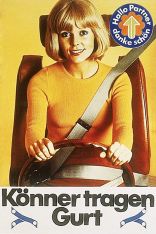 In spite of the DVR campaigns of the Seventies, it took a long time to convince the Germans to always fasten the seat belts
Finally on July 1, 2004 three-point belts became compulsory on all seats in the car; until then, lap belts were tolerated on the rear seat. It took another ten years before seat belt reminders became mandatory in all new EU vehicles from 2014.
Since Bohlin developed its belt in Gothenburg, other important inventions such as the

Airbag (1,1 MB), the

crush-collapsible zone, the belt tensioner and the belt force limiter have significantly improved road safety. But Bohlin's three-point belt remains a milestone.
Nevertheless, car manufacturers are still working constantly to improve the safety belt. This is evidenced by the high number of patent applications received by the DPMA. The very latest developments include a modified five-point belt (

DE102018103578A1), improved control systems for belt closure(

DE102016121341B3) or combinations of belt and airbag (e.g.

DE102017111852A1 or

DE102017204986B3).
Pictures: Volvo AG Schweiz, Volvo AG Schweiz, DVR
Last updated: 7 November 2022