Content
Women in IP - Magdeburg

This year's World Intellectual Property Day is dedicated to women: Event though almost half of the world's population are female, women file significantly fewer patent applications than men, for instance. This needs to be changed, as women's ingenuity and point of view shape the world. On the occasion of World Intellectual Property Day, the DPMA, together with its cooperation partners, the patent information centres, presents women inventors, designers and trade mark proprietors from all over Germany. The good news is there are many of them and the ideas they have implemented are quite different. Get inspired and join our tour of Germany to discover exciting stories about women in IP. Be inspired and come along on an exciting trip to Germany with the "Women in IP".
Patent Information Center and Standards Infopoint in Magdeburg: Women in IP from Saxony-Anhalt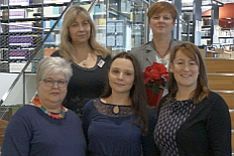 women power at PIZ Magdeburg
At

Patent Information Center and Standards Infopoint in Magdeburg, real women power is the order of the day. Five female employees support you in all questions concerning industrial property rights, standards and guidelines. Briefings on various search databases, information on IP applications and detailed consultations are part of the daily business. Joint searches for company and product names as well as corresponding logos and designs or commissioned searches for technical inventions with detailed search reports and information on available norms and standards are part of the service.
As part of the university library, users can also access a comprehensive treasure trove of further literature and conduct research directly on site at the research workstations with expert support. Whether members of the university, employees of a small or medium-sized company or individual inventors, everyone with a spirit of discovery, creativity or systematic developer know-how is welcome at the PIZ Magdeburg.

Gin and spreads from the Magdeburger Börde - produced regionally and sustainably in our own manufactory
Isabel Heidemann founded "Gonzo's" in August 2021 in Druxberge, Magdeburger Börde. "Gonzo's" stands for sustainable and regional products. In addition to the delicious spreads and gin, "Gonzo's" also offers a gastronomic range for markets, events and private parties. The concept is called "Stu & Ulle" - grilled sandwiches with seasonal ingredients from regional producers.
Property rights
A colleague from the Patent Information Center assisted Isabel Heidemann in researching the company name and, together with her, determined the classes of goods and services. The application was then filed by a cooperating patent law firm.
Trademark EM 018675238 "Gonzo's"
---
Bridging the gap between artificial intelligence and psychiatry
Laila Gbaoui, a medical engineer at Otto von Guericke University, is conducting research on the analysis and characterization of psychiatric disorders and mental stress. She is developing a new non-invasive diagnostic procedure for depression. Colleagues from the "Medical Systems" working group headed by Professor Christoph Hoeschen are also involved in this project in cooperation with the medical team of Professor Thomas Frodl, Department of Psychiatry and Psychotherapy at Otto von Guericke University and Department of Psychiatry, Psychotherapy and Psychosomatics at RWTH Aachen University Hospital.
Currently, psychiatry lacks proper quantitative biomarkers that allow clear diagnosis for psychiatric disorders. In contrast to the conventional interview-based diagnostic procedure, the new method is based on the identification and quantification of huge data sets of chemical particles in exhaled air. Furthermore, the current diagnostic procedure is inexpensive and particularly easy to use in children and elderly and multimorbid patients. In recent years, the analysis of chemical particles in exhaled air has proven to be a promising method for the identification of biomarkers for the diagnosis and monitoring of various metabolic diseases, cancer, asthma and so on.

Pending intellectual property rights
EP 3988934 A1, 2022/17 - Frodl T., Gbaoui L., Hoeschen C., Lüno M., Meyer-Lotz G., Biomarker in exhaled breath for Diagnosing Major Depressive Disorder
---
"Hearing Compass" - two hearing acoustics masters with heart and soul
Hearing loss usually begins insidiously and is accompanied by a great loss of quality of life and can even lead to complete isolation. The bad experiences of other hearing impaired people and their own fear often prevent them from going to a hearing care professional. Sandy Reß and Nora Beiermann ensure that those affected are once again aware of their surroundings. The two managing directors have a combined 30 years of professional experience.
Property Rights
Nora Beiermann and Sandy Reß also sought support from the PIZ Magdeburg in researching trademarks and preparing their trademark application.
registered trademark DE302021107831 "Hörkompass" (hearing compass)
All IP documents can be viewed in DPMAregister

Bild 1: WIPO, Bild 2: PIZ Magdeburg; Bilder 2-4: privat
Last updated: 14 September 2023