Inhalt
Jimi Hendrix' 75th birthday
The wild guitar god: virtuoso, innovator, brand

On November 27th he would have turned 75 years old: Jimi Hendrix, probably the most influential guitarist of all time. No one played the electric guitar as innovative and revolutionary as he did. That's why Hendrix is regularly voted the best guitarist of all time in surveys. In the few years from his first record to his untimely death in 1970, he changed the history of the instrument and rock music forever.
Behind Hendrix' unique play was not only virtuoso skill, but also a lot of new technology that he used either as the first or at least as no other.
His favourite guitar was the Fender Stratocaster - which he occasionally liked to smash or burn on stage - and which, thanks to him, is still one of the best-known and best-selling instruments. One of its technical features was the tremolo lever arm (

patented in the USA 1954). Hendrix was the first to fully exploit the sound possibilities of this lever arm and make it an important stylistic element of his playing. His famous version of the American anthem at the Woodstock Festival - unthinkable without this patent!
A technical innovation has also been popularized by Hendrix: the Wah-Wah pedal, an effect device that is patented by the US (

US 3530224) in 1967 with a German family member (

DE1264225A). Listen to "Voodoo chile" during the intro, for example.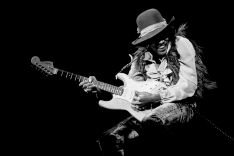 To get close to his complex sound (which is difficult because the left-handed player played an upside-down right-handed guitar) Hendrix' countless epigones had to buy various devices for a lot of money and had to put together his "line-up" - guitar, effects, amplifiers, speakers - laboriously.
Thanks to various technical innovations, it is now possible to digitally imitate Hendrix' analog sound with just one device. With the aid of so-called modeling technology, digital signal processors can be used to program amplifiers, effect devices and even electric guitars in such a way that the typical sound characteristics of certain popular models can be called up at the touch of a button. While the traditional valve amplifiers used by Hendrix and its successors (always turned on full throttle) offer virtually only one characteristic tone, a modeling amp can digitally produce numerous "classic" rock sounds - even at room volume.
Some traditionalists may reject this "synthetic" sound, but the underlying technology is highly successful on the market and is constantly being refined, as recent patents show: Hendrix' guitar maker Fender also introduced a digital module for universal use with electric guitars and accessories (

US 7678985 B2 (1,2 MB), registered 2007). Other manufacturers, for example, offer a programmable amp pedalboard that provides guitarists with freely selectable digital effects and switching functions on stage (

US 8957297 B2 (1,21 MB), announced 2013). These and all other important technical innovations in rock music can be researched in the DPMA databases.
Jimi Hendrix, the wild guitar god, has long since become a trademark himself - literally: his name is registered at the DPMA as a trademark ; his signature is registered as a figurative mark for classes of goods such as music or clothing.
---
Picture: Steve Banks / by Creative Commons / ccbysa4.0/ httpscreativecommons.org / via Wikimedia Commons
Stand: 28.10.2020