Content
Jimi Hendrix
Jimi Hendrix in action, May 10, 1968
The wild guitar god: virtuoso, innovator, brand
He was probably the most influential guitarist of all times died: Jimi Hendrix. Nobody played the electric guitar as innovative and revolutionary as he did. That's why Hendrix is still regularly voted the best guitarist of all times in various polls. In the few years from his first record until his early death on September 18, 1970, he changed the history of the instrument and rock music forever.
Behind Hendrix's unique playing was not only virtuoso skill, but also a lot of then new technique, which he used either first or at least like no other. The guitarist was also a sound creator who used all available effects in the studio and on stage, combining and creating new sounds.
His preferred electric guitar was the Fender Stratocaster (although he liked to smash or burn it occasionally on stage). Not least thanks to Hendrix, this guitar is still one of the best known and best-selling instruments today, almost unchanged. Although manufacturer Fender optimized the Stratocaster selectively (see e.g.

US4803906A), since Hendrix' times the instrument is offered essentially unchanged (of course there are also various Hendrix "signature" models).

"Whining" hook and howl effect

One of its technical features was the tremolo lever (patented in the USA in 1954,

US2741146; see also

DE1297970A). Hendrix was the first to fully exploit the tonal possibilities of the vibrato lever (sometimes affectionately called the "Jammerhaken - whining hook in German) making it an important stylistic element of his playing. His famous version of the American anthem at the Woodstock Festival - unthinkable without this patent! The vibrato lever is still being improved today, see e.g.

DE202019000687U1.
A technical innovation was also made popular by Hendrix: the wah-wah pedal, an effect device for which there is a US patent (

US 3530224) from 1967 with a German family member (

DE1264225A). It can be heard at the intro to "Voodoo chile", for example.

Hendrix' sound today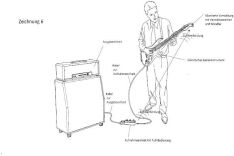 "Vorrichtung zur Erzielung von harmonischen Rückkopplungen bei elektrisch verstärkten Saiteninstrumenten" (DE102015002381B4)
In order to get close to his complex sound (which is difficult, if only because the left-handed virtuoso played an upside-down right-handed guitar), Hendrix' countless imitators used to have to buy various devices for a lot of money and assemble his "line-up" of guitar, effects units, amplifier. Thanks to various technical innovations, it is now possible to digitally imitate Hendrix' analog sound with just one device. Using the so-called modeling technique, digital signal processors can be used to program amplifiers, effect devices and even electric guitars in such a way that the typical sound characteristics of certain popular models can be called up at the touch of a button. While the traditional tube amps used by Hendrix and his successors (always turned on full throttle) practically only offer a characteristic tone, a modeling amp can digitally mimic numerous "classic" rock sounds - even at room volume.
Although some traditionalists reject this "synthetic" sound, the underlying technology is highly successful on the market and is being refined more and more, as newer patents show. Hendrix' guitar maker Fender also introduced a digital module for universal use in electric guitars and accessories (

US 7678985 B2 (1,2 MB),registered 2007).
Other manufacturers offer, for example, a programmable amp pedal board that provides the guitarist with freely selectable digital effects and switching functions on stage (

US 8957297 B2 (1,21 MB), registered in 2013).

Playground for sound wizzards
Even the feedback effect, which Hendrix used excessively, can be generated artificially today:

DE102015002381B4 demonstrates how the effect of endless tones can be achieved with digital amps at low volume without the need for a fully turned-up amplifier to make the guitar held directly in front of it vibrate, so that the tones generated in this way are in turn reflected back with high amplification and can thus produce a noise of any length.
Jimi Hendrix liked to overwhelm his audience with various technical tricks and sometimes played his guitar with tongue and teeth. His colleague Eric Clapton (otherwise a sincere admirer of Hendrix') ironically called this "pyrotechnics". Today, new registrations take this almost literally, such as "Guitar with integrated fog machine and laser technology"(

DE202019004187U1).
These and all other important technical innovations in rock music can be easily searched in the patent database of the DPMA, DEPATISnet.

Hendrix as a trademark
Jimi Hendrix, the wild guitar god, has long since become a trademark himself - in the literal sense: his name is registered as a trademark at the DPMA (DE30232623, also EM004626685); his signature is registered as a word/picture trademark for classes of goods such as music or clothing (EM011816485).
It was not until the mid-1990s, after long disputes, that Hendrix' father James Al succeeded in bringing all rights to Jimi's estate under the family's control. He founded a marketing company, the "Experience Hendrix, L.L.C.", in Jimi's birthplace, Seattle. Since then, this company has been exploiting the possibilities of intellectual property rights to the full and has been aggressively marketing Hendrix products (recently even mouth-nose masks).

Are you experienced?
Only in 2018, for example, did the company secure the word mark "THE JIMI HENDRIX EXPERIENCE" (EM017877400)for clothing and music (Nice 25, 41) - after the name of the band Jimi played with in 1966-69 and became a superstar. Also the title of the debut album from 1967, "ARE YOU EXPERIENCED" has been a trademark since 2018 (EM 017877399, Nice classes 25, 41). The names of some of his most famous songs have also been registered as trademarks, such as "Voodoo Child" (EM 013608567) or "Purple Haze"(EM 01787739).
Half a century after his death, more Hendrix music is sold than during his lifetime. Of course the distribution of music has changed a lot today. But the streaming and sales portals keep "classics" like Hendrix alive. For example, the operating principle of one of the leading streaming providers is explicitly explained in a recent patent application using the example of a Hendrix song ("Media content steering",

EP3648106A1).

Pictures: Steve Banks (by Creative Commons, CC by SA 4.0, via Wikimedia Commons), DEPATISnet, DPMAregister
Last updated: 26 July 2022