Content
Well protected: Barbie, Ken and the upright stand

The pop culture icon and the new diversity
Strictly speaking, at 64 years old, she would be a woman on the verge of retirement. But Barbie does not age, because she is a doll turned dream that was presented at the American Toy Fair in New York City on March 9, 1959. And she is subject to the spirit of the times: so not only did her outer appearance change - her figure got slightly wider hips and also feet for flat shoes, in the meantime she was also a scientist and a pilot. She comes in different skin colors, "curvy", in a wheelchair or with a prosthetic leg. A new variety to represent the reality of life more realistically.
Brand EM003973252
Moreover, Barbie is now not only a billion-dollar brand, she is quite a few brands. The plastic doll is loved or she is hated, usually there is nothing in between. Her worldwide recognition is high - according to the manufacturing company, it's 99 percent, and it's fair to call her a pop culture icon.
This July, Barbie is once again the leading lady of a movie - reason for us to take a closer look at "Barbie and industrial property rights". For this purpose, we have selected some highlights from our register

he German sisters Lilli, Petra and Steffi
Much has been written about the fact that Barbie is actually a German invention and saw the "light of day" as "Bild-Lilli". Barbie's creator, Ruth Handler, is said to have discovered the "Lilli" doll in a toy store window in Lucerne, Switzerland, when she was traveling in Europe with her family. Unfortunately, "Lilli" is not found in our trademark register.
Instead, the trademarks DE810126 and DD623276 (no longer in force today) tell us something about the West German Barbie equivalent - which was called "Petra" and came on the market in 1964. Her body was almost identical in size to Barbie, so the Petra dolls could have worn Barbie's wardrobe - and vice versa. The Petras of the 60s captivate with finely drawn faces and the beautifully elaborated eye area.
The real socialist answer came on the market in 1966 and was called "Steffi". According to the GDR trade journal "Spielzeug," she was a "charming mannequin doll". Steffi came from the VEB doll factory in Waltershausen, had voluminous blow-dried hairstyles, appeared in a variety of ethnic models, and had an astonishing variety of chic clothes, most of which were suitable for everyday wear. She also appeared as a stewardess in Interflug uniform. The Steffi models appeared more mature and ladylike than the Barbies and were also not produced primarily for girls in the GDR. The fashion doll "Steffi" was often given as a gift to state guests. Unfortunately, it is not listed in the trademark register.
Barbara Millicent Roberts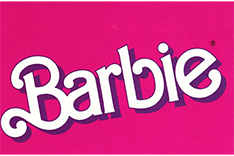 Marke DE 1132399
There are around 50 "Barbie" trademarks registered in the DPMAregister, many of which are purely word marks. Of course, there are also word and figurative marks with the typical lettering and the pink color scheme, for example DE1132399 and EM169979.
Barbie's full name is actually "Barbara Millicent Roberts", see trademark EM018190547. The name is said to have been inspired by Ruth Handel's daughter Barbara.
Separated and then united again
Barbie's long-time boyfriend was probably also given the name from Ruth Handler's direct environment, her son was called "Ken". Ken" is also represented numerous times in the trademark register, for example DE 816795, registered on March 29, 1965 or also EM 169862 (both still valid). We also particularly like DE 2041801 "Traumschiff Ken" from the 1990s - when people didn't think much about the "ecological footprint" when it came to cruises.
After more than 43 years, Ken and Barbie parted ways on Valentine's Day 2004. Fortunately, that wasn't forever: seven years later, on Valentine's Day 2011, the two found each other again.
The little sister - Skipper
Sometimes annoying and then again loved, so they are, the little sisters. Barbie's name is "Skipper" and came into the world, or rather onto the market, in 1964. It can also be found in the trademark register, for example DE811760 and EM018089291.
Later, in the 90s to 2000s, Stacie (for example EM002356574), Kelly (DE39501824) and Krissy (DE30110093) followed.
Barbie and the upright stand
Shortly after Barbie's birth, Jack Ryan, head of Mattel's research and development department, received a patent for the doll design that allowed Barbie to stand upright. Over the years, several other patents were granted for a movable hip joint for the doll, for her tinny voice box, and other innovations.
Barbie and Ken also have design protection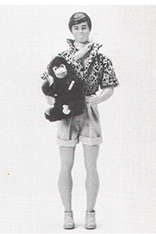 Design M8802898-0003.1
In our register you will also find many designs around Barbie and Ken. Not only Barbie's dream house (M8900241-0016.1), but also various designs of the dolls themselves.
You want to know more?
You can find all the IP rights presented here in DPMAregister or in our patent database DEPATISnet. You can also search there for many more patents, trademarks and designs on the subject. If you would like to learn more about searching or about patent, trademark and design protection, please feel free to visit one of our Workshops - online or now again in presence in Berlin.
Bild 1: iStock.com/fieldwork, other pictures: DPMA
Last updated: 20 July 2023