Content
First car ride in the world

With hatpin, garter and 3 HP: Bertha Benz´drive into the future
On August 5, 1888, a woman heralded the era of the automobile: Without Bertha Benz, the history of mobility would have been different. On that day, she took her first longer trip by car. And proved to her husband and the rest of the world that his invention was suitable for everyday use and had the potential to change everything.
Almost two years earlier, on 2 November 1886, Carl Benz had received a patent from the "Kaiserliches Patentamt" (Imperial Patent Office), the forerunner of the DPMA, for his "

Fahrzeug mit Gasmotorenbetrieb" (vehicle with gas engine) retroactively to 29 January 1886 - the first automobile. Incidentally, "Patent Specification No. 37435" is now part of the UNESCO "

Memory of the World ".
Benz had already made a first short public test drive on July 3, 1886. Although the local press reported on the invention, the hoped-for response failed to materialize; there was little interest in the "horseless carriage", as it was not considered suitable for practical use. It took the courage of Benz´ wife to prove to the world what the (further developed) "Benz Patent Motor Car No.3" could achieve.
The three of them on a long journey into the unknown

That August morning a 130 years ago Bertha Benz left Mannheim with her sons Eugen and Richard (15 and 13 years) at first light. Without the knowledge of their husband, who would never have allowed this trip out of insecurity, they drove about 100 kilometres to Bertha's hometown Pforzheim to visit her mother.
By the way, Bertha Benz did not have a driving licence: a few days earlier her husband had received the world's first driving licence, issued on 1 August 1888 by the Grand-Ducal-Badish District Office - but not her.

Blacksmith and pharmacist help out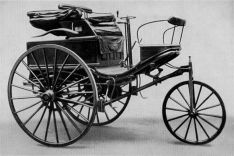 Benz Patent-Motorwagen No. 3 of 1888
The circumstances and anecdotes around the world's first big car trip are legendary:
How the city pharmacy in Wiesloch became the world's first gas station, since Bertha Benz bought a few litres of Ligroin there, a cleaning agent that served as fuel for the small single-cylinder engine with its almost 3 hp.
How it occasionally came to smaller breakdowns, which Bertha repaired herself: a clogged fuel line was cleaned with her hatpin; the ignition was repaired with her garter. A village blacksmith helped to patch up the chain, thus operating as the first car repair Garage.
How they had to replenish cooling water every few kilometres, from wells, inns, ditches - no matter what. Or how a cobbler nailed new leather caps to the brake pads.
How passers-by reacted with fear and astonishment to the unusual vehicle, scared horses and shy oxen. How the three runaways sent telegrams to Carl Benz in between to calm him down and report the success of the trip. And how they had to push uphill, because the car did not yet have a suitable power transmission.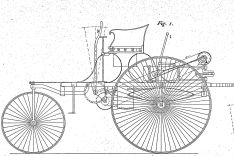 From patent document DE 37435
Bertha suggested the introduction of a third gear, based on this experience. Carl Benz implemented the idea and when the worldwide triumphal march of the automobiles began - all now equipped with a third gear - Bertha was very proud that she had given the impetus for it.
The almost 13-hour drive from Mannheim to Pforzheim and back (today the "

Bertha Benz Memorial Route") showed that the car was practical. Above all, however, she encouraged Carl Benz to believe in his invention again: "She was more daring than I was and took a decisive step in the further development of the motor vehicle," he later recalled. Now he did everything he could to help his car to break through. This was finally achieved with the presentation at the Munich "Power and Machinery Exhibition" in the same year and at the World Exhibition in Paris in 1889.
The rest is history: The "Benz Patent Motor Car No.3" was built in series and offered for 3000 Goldmark. The "Benz & Cie. Rheinische Gasmotorenfabrik Mannheim", later "Benz & Cie. AG", was the largest automobile factory in the world in 1900 and later merged into groups that still exist today.

Mother, Encourager, Patron

In the

Science Museum in London there is a Benz Patent Motor Car No.3, which is certainly the oldest surviving car and most likely the one Bertha used for her legendary journey.
But Bertha Benz has made traffic history not only through her historic journey. Without her, Carl would probably never have been able to make his invention, at least never take it to market maturity.
Born Cäcilie Bertha Ringer on 3 May 1849 in Pforzheim, Bertha came from a wealthy family home. Always a technophile, she decided against a "good match" with a financially secure future and for the young, unemployed but visionary engineer Carl Benz. She had her dowry paid in advance and put it into his small business.
For many years, the ever-growing family with four children had to live partly on the breadline, as Benz remained unlucky as an entrepreneur. With iron austerity Bertha ran the household; every penny was invested in Benz´ work. Without them he would have been lost, as he later admits in his memoirs: "Only one person stood by me in the little ship of life in those days when it was going to ruin. That was my wife. Bravely and courageously she hoisted new sails of hope."
Late appraisal
The automotive group, which continues Benz´ name until today for its products, appreciates Bertha on its website: "With her unshakable faith, her capital and her bravery she has essentially shaped this success story."
She proudly experienced the worldwide triumph of the automobile. On her 95th birthday, Bertha Benz was appointed Honorary Senator by the Technical University of Karlsruhe. Two days later she died on 5 May 1944.

Pictures: Bertha Benz By Bühler, Mannheim (Automuseum Dr. Carl Benz, Ladenburg) [Public domain], via Wikimedia Commons, via Wikimedia Commons
Last updated: 25 July 2023