Content
Kathi – exquisite baking ideas in the East

Registered word/figurative mark DE 30760761
Necessity is the mother of invention
There was serious hardship in the post-war years; a daily experience for Kaethe and Kurt Thiele. Eggs, flour, sugar – everything was in short supply. But necessity is the mother of invention. So the couple created their first spreads and savoury products and set the ball rolling by starting production with simple means – initially in the garage of their apartment building. The family also developed a new type of all-round baking mix: cake flour.
Foundation of the company in 1951 – the trade mark "Kathi" is born
On 31 March 1951, the company Kathi-Nährmittelfabrik was founded. The name "Kathi" stood for the names of the founders Kaethe and Kurt Thiele. The trade mark "Kathi" was entered in the trade mark register; see trade mark certificate of 19 November 1955.
In 1959, Kurt Thiele acquired the company Dr. Backhoff Leipzig and secured the rights to the baking powder recipes. At the end of the 60s, Kathi had to reduce the product range to one product group – baking mixes. The production of the other products was taken over by other planned-economy enterprises.

Kathi in the socialist planned economy
On 1 April 1972, like almost all remaining private companies in the GDR, the company was expropriated and continued under the name VEB Backmehlwerk Halle. The name "Kathi" has remained protected under trade mark law. In 1980, the company was finally incorporated into the food and coffee combine VEB Kombinat Nahrungsmittel und Kaffee Halle. In 1976, Rainer Thiele left the company and worked at the VEB Nahrungsmittel und Kaffee (Venag) combine until 1990.
Reprivatisation after German reunification with new production plants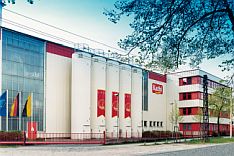 Headquarters in Halle
In February 1990, Rainer Thiele applied for reprivatisation and was appointed authorised officer with full power of attorney at Kathi. On 16 July 1992, Kathi Rainer Thiele GmbH was founded.
Between 1993 and 1994, the company built new production plants on Berliner Strasse in Halle an der Saale and purchased new fully automated and computer-controlled production equipment.

A new generation at Kathi
In 2007, Rainer Thiele passed on the reins of the company to his son Marco, supported by family members. Kathi is the success story of a trade mark and a family business from Halle an der Saale. Today, the company employs a good 90 staff, including 14 apprentices, and generates a turnover of almost 30 million euros (2018).
Pictures: Kathi Rainer Thiele GmbH
Last updated: 3 February 2023