Content
30 years after German reunification

The German Patent and Trade Mark Office in Munich, Jena and Berlin
This year we are celebrating a special anniversary: 30 years of German unity. It's been a whole generation since reunification of the two German states and yet many people still have vivid memories of that time. The two patent offices in East and West were also "reunified" on 3 October 1990. In addition to the DPMA locations in Munich and Berlin, the Jena sub-office in Thuringia was opened on 1 September 1998. In the third and last part of our series on "30 years of German unity", experienced DPMA staff and also younger colleagues talk about their personal experience when moving from "East to West" or also from "West to East".
Regina Chmiel: "In Jene lebt sichs bene"
Regina Chmiel, a native of Munich and former trade mark examiner, is a specialist in international trade mark registration. When staff was needed for the establishment of the new DPMA branch office, she did not hesitate for long and went to Jena. That experience has enriched her life and she would not have wanted to miss out on it, as she says today: "In July 1991, I had been transferred from the Federal Defence Forces Administration to the DPMA (then still DPA – German Patent Office) and joined the trade mark department, where I worked in the area of national trade mark procedures and, from 1997 on, in the area of international procedures (international registrations (IR), foreign-domestic)."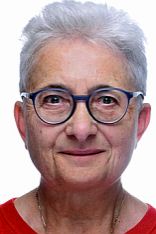 Regina Chmiel
My family had no relatives in East Germany and so that country and its inhabitants were completely foreign to me. My first contact with East German colleagues was when some of them came to Munich from Berlin to learn about "our" trade mark procedure. During these visits we exchanged knowledge and experience. But we also laughed a lot because, despite sharing a common language, there were also some misunderstandings. I remember one of my colleagues telling me about the lines she had worked in before and I thought at first that she had been working for the railway! Of course she meant the areas she had worked in before. I remember very well a business trip to Berlin to work through old cases from the international registrations (IR) area there. The staff there looked after me very well during my entire stay, inclusive of visiting a satirical revue!
Staff were sought for the new sub-office in Jena, which was to open in September 1998. Since I am open to new challenges, my daughter and I spontaneously spent a long weekend in Jena in early June. We experienced a city which still exhibited a spirit of optimism, with many young people (Jena is a university town), quaint pubs, cultural events and above all with people who made us feel welcome – in short, a place where you could feel at home.
After my application for Jena, I was accepted. The 1st of September, the day when the new sub-office in Jena opened, was also the day when my daughter (15) and I arrived in Jena. On September 2, we chose a suitable school in the new federal Land, because school started in Thuringia on September 3! Thanks to the unbureaucratic help offered by former staff from Berlin in particular, who had moved to Jena, our start went off without any problems.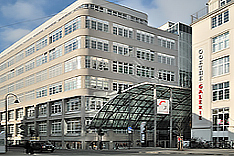 Office building in Jena
After a short while, I had settled in in Jena and helped to introduce the new colleagues to trade mark law. What I found pleasant was that organisational structures were clearly recognisable in the new sub-office, but hierarchical attitudes were rather unknown.
At first, the staff of the Jena sub-office was a motley crew of people recruited mainly from the new federal Länder (mainly from Thuringia) and East Berliners from the former Office for Inventions and Patents (AfEP) of the GDR, plus a few West Berliners and a rare minority of people from the rest of the republic. The newly hired staff were happy to have found a job – many had even lowered their expectations and worked below their potential and qualification levels. After all, many jobs had been lost after reunification due to the downsizing of many companies, including the Zeiss works in Jena. Flexibility was in demand at that time and the courage for a new start – often far away from the usual comfort zone. A certain competition with the Munich trade mark divisions was noticeable, of course, because we wanted to make a good impression here in Jena – and we certainly succeeded, because the figures spoke for themselves.
Of course I was asked about my life "in the West", what trips abroad I had taken, questions about raising children, questions about life in general. I discovered that women in East Germany had a different position within society and a different self-conception – this was a very positive experience for me, which I had not known in this form before. The school system too deserved praise because of its highly motivated teachers, such as were often hard to find in Munich/Bavaria. I am now also familiar with some idiomatic terms – for example, I know that the word "Broiler" (roast chicken) is not a misspelled term for a device for preparing hot water!
I would not want to have missed the time in Jena for anything. I have kept in touch with some people there to this day. I also fondly remember a colleague who paid me a great compliment by saying: "Well, there's one thing I have to tell you – one sure can't tell that you are actually a Wessi (westerner)!" If I am to sum up my time in Jena, then I would like to quote Goethe, who said: "In Jene lebt sichs bene" (Jena is a great place to live).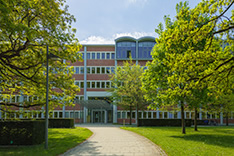 Office building in Munich district of Fasangarten
When in 2007 the IR area was centralised in Munich, I moved back for work-related reasons, but this was not the only reason – I would be lying. A part of my family has always lived here. In 2002, after her final secondary-school examinations, my daughter had also returned to Bavaria because she saw her future career here and also because she had found happiness in her private life here.
From January 2008 until my (active) retirement in April 2016, I worked in the IR area, foreign-domestic, at the office in the Fasangarten district. After having been absent for almost 10 years, this meant meeting new colleagues and renewing acquaintance with former colleagues – because every time brings changes. Sometimes I even felt like a rare species in Munich – back home.

Maximilian Schütze: With the DPMA from Bavaria to Berlin-Brandenburg
Maximilian Schütze originally comes from Bavaria. He completed his vocational training at the DPMA about ten years ago and very much appreciates the fact that he was able to transfer within the DPMA to the Berlin office and thus to an exciting, multifaceted, tolerant and vibrant metropolis: "Since October 2016, I have been working in the Customer Care and Services team of the DPMA in Berlin. From 2011 to 2014, I completed my vocational training as management assistant in office communication in Munich. Afterwards, I joined the trade mark department on Cincinnatistrasse in Munich, where I handled the processing of new applications, until October 2016.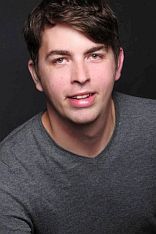 Maximilian Schütze
In August 2016, while on holidays, I got the acceptance letter for the job in the Customer Care and Services team in Berlin. From mid-August, I started viewing various flats. My weekly routine consisted of working in Munich from Monday to Friday and hunting for a flat in Berlin from Friday afternoon to Sunday afternoon (housing shortage). When I was accepted to rent the flat at the end of September 2016, I was very happy, of course. However, shortly after moving in, I discovered that, hidden from view, the flat was mould infested. But thanks to a tip from a colleague, I contacted a tenants' protection association and was able to solve the problem. The following flat in the Friedrichshain district was wonderful and since April 2020 I have been living with my fiancée in the Eichwalde/Brandenburg district.
Why Berlin? Berlin is completely different from any other German city: exciting, multifaceted, tolerant and vibrant. Berlin never sleeps and somehow offers everything. Even after umpteen years, there will always be something new to discover. And then there are the countless leisure activities on offer and the wide range of attractions for art and culture lovers. As huge as the city may be, it still seems provincial with all its districts. You rarely notice that almost 3.8 million people live here. Berlin has a lot of lakes and forests, so you can easily escape into nature and leave the hustle and bustle of the big city behind."
Sandra Chaouki: Taking the plunge and breaking free
After Sandra Chaouki, a native of Berlin, had been looking for a training placement for two years, she applied for vocational training at the DPMA in 2004 and promptly received an invitation to Munich to start a training programme. She had never expected that. So she moved from Berlin to Munich within three weeks in the autumn of 2004. This step was not easy for her, but in the end she has no regrets about it at all: "Finding an affordable flat in Munich was the biggest problem. But at the job interview I met a future colleague. Together with her, I found accommodation in a hall of residence for nurses in training, without having even seen it before. So on 30 September 2004, my journey to Munich began and I started the vocational training programme for office communication clerks, which I successfully completed in 2007 After that, I initially got a temporary job in the patent registry for one year. After six months, most of the trainees received permanent employment in the registry until the launch of the test phase of the electronic case file. There I dealt with the editing, scanning and quality assurance of patents and utility models. Later, I joined the trade mark department, where I worked until 2017. After that, I successfully applied for Customer Care and Services in Berlin and was able to move to my old home town.
I knew from the beginning that I wanted to return to Berlin one day. In Munich, I initially had to struggle with prejudice because I came from the East. For example, I had to listen to stupid jokes and remarks from older "native Bavarians". I didn't fight back because they were actually friendly to me. But I was often sad all day because of this behaviour, I suffered from loneliness and sometimes I was unable to eat. The training supervisor helped me wherever she could. When, in 2008, I met my future partner (not a "local" either) and got together with him, I finally felt I had arrived. Now, after some years have passed, I don't feel anything negative about 13 years in Munich. I could have done without the teasing, but I also made good friends back then and these friendships have lasted until today. Now I still enjoy coming to Munich because I have also learned to love the city.
When I returned to Berlin, it was suddenly a gigantic city for me. I almost didn't recognise the Prenzlauer Berg district, and the warmth of the Berliners also has a downside: it's easy to get snapped at. However, in Berlin, it's much easier to get into conversation with people, and they have more time. I never feel alone in Berlin, even though the city has grown so much. The new "hipster districts" (Friedrichshain) fascinate me, Berlin is so vibrant and lively.
Looking back at my time in Munich, what I find good is taking the plunge and breaking free. That's the way I learned to grow up, to become self-determined and independent – breaking away from home was painful, but very successful."

Ina Dressel: It wasn't all easy, but it was definitely worthwhile
After her vocational training at the DPMA, it was not easy for Ina Dressel, a native of Jena, to find permanent employment. For this purpose, she went to Munich and learned to appreciate good networks during that period. However, for private reasons she wanted to return to her home town: "After the final secondary-school examinations and a voluntary social year, I decided to undergo vocational training at an office. At that time, many of my classmates went to the West for vocational training or to study. With the help of the employment agency, I came to the Jena sub-office of the DPMA and underwent a three-year vocational training course to become a media and information services clerk (office communication).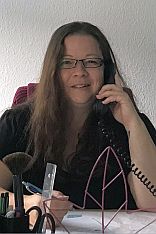 Ina Dressel
After completing vocational training, I worked in a temporary job in the trade mark administration in Jena as a twelve-month parental leave replacement. After that, I was unemployed for three months. Even during the last training year, I had applied for jobs in Munich. After about one month of unemployment, the DPMA personnel management division called me and asked whether I was still interested. On 1 December 2004, I was offered a job in the patent administration/registry in Munich (for one year). However, as my then future husband worked in Jena, I applied again for a post in the area of "budget/internal services" in Jena to fill in for a staff member on parental leave. Initially this was also a temporary job for twelve months. Finally, several – again temporary – positions were advertised in Jena in the trade mark division and in the designs unit, and I applied successfully for these as well. At long last, I received a permanent contract in 2009. From then, I continuously worked in the design division, and since September 2019, I have worked at the Jena Customer Care and Services.
Looking back, my time in Munich was not that easy, especially when it came to flat-hunting. And yet I was lucky: In the first month, I stayed with a classmate. After that, I got a room in a shared flat with a clerk from the patent division whom I had met. After I returned to Jena, this room was rented out to a colleague from Jena who attended further training in Munich. Every weekend I commuted to Jena – thanks to core time shifting, I managed to be home from Friday evening to Monday morning. I survived the time in Munich well, thanks to networks and my sociability. But during my year in Munich, I mainly had contact with people from the East – so there were no language problems;-). I can say that it wasn't all easy, but it was definitely worthwhile. I have maintained this positive attitude and experience until today."
Mathias Bethke: From the Uckermark region to the DPMA in Munich
Mathias Bethke works at the DPMA Customer Care and Services in Munich. Every day, he deals with enquiries about intellectual property protection. It's a job he really enjoys. He originally comes from the Uckermark region in Brandenburg. Here he talks about what he thinks about "30 years of reunification" and what might have been if reunification had not happened: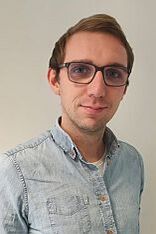 Mathias Bethke
"At the time of the fall of the Berlin Wall and German reunification, I was still a toddler. So I do not have many memories of that time. Maybe that is also a reason why German unity has little relevance for many of my generation and especially for those born later and why they see no difference between East and West. The fact that Germany is one country from the Baltic Sea to the Alps has been part of normality practically since birth. Even when we were children, it was perfectly normal for us to go on holiday anywhere in Germany or to visit relatives in the old Länder.
It has been and still is normal for many to apply for a training placement all over Germany. That's how I came to the DPMA in Munich and started vocational training as an administrative employee in 2004.
Today, 30 years after German reunification, when I visit my relatives in the Uckermark region, it is hardly noticeable along the route that this country once used to be divided. Only if you look closely you can still spot the old border towers. This is when I occasionally try to imagine: "What if things had turned out differently in the past? Then I wouldn't be able to drive past here today, I wouldn't have my current job, I wouldn't have met my girlfriend or many of my best friends, and it wouldn't be possible to travel as freely as it is possible now."

Bild 1: Geschäftsstelle "30 Jahre Friedliche Revolution und Deutsche Einheit", weitere Bilder: DPMA
Last updated: 3 February 2023