Content
Halloren – the sweet buttons from Halle

Registered word/figurative mark Wort-Bildmarke DE30324429 "Halloren-Kugeln"
Germany's oldest chocolate factory
The history of the "Halloren" chocolate factory dates back to 1804: In Halle an der Saale, the gingerbread maker Friedrich August Miethe founded a small pastry shop and gingerbread bakery. It was taken over by a certain Friedrich David in 1851. At the turn of the century, the company gained a reputation as a producer of high quality chocolates under the name of "David und Söhne". The most famous product range of that time bore the trade mark name "Mignon" and was well known far beyond the borders of Halle. Even today the trade mark DE1106836 "Mignon" is still registered.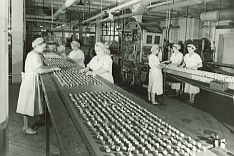 Halloren production in 1958
During GDR times – VEB Schokoladenfabrik Halloren
During the second world war, aircraft were produced in the factory halls instead of chocolate. However, shortly after the end of the war, the company resumed chocolate production. In 1950, the company was expropriated and merged with the companies Most and Diamalt to form the confectionery combine Kombinat Süßwaren. As a result of an internal name competition, the new factory was named VEB Schokoladenfabrik Halloren from 1952 onwards.
Halloren as eponyms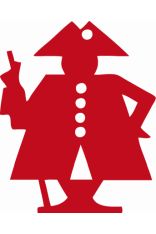 Hallore (historical salt maker)
In 1491, the salt makers in Halle an der Saale joined to form the salt maker fraternity Salzwirker-Brüderschaft im Thale zu Halle, which still exists today. The members of this fraternity are called Halloren. In 2014, the fraternity was included in

Germany's intangible cultural heritage. The time-honoured association regularly organises festivals and guided tours. On these occasions, you can also admire the traditional festive dress of the Halloren.
The large round silver buttons on the Halloren festive dresses were the model for a branded article, namely the well-known "Halloren-Kugeln" (chocolate balls), created in 1952. In Ulbricht's and Honecker's time the chocolates – filled half with whipped cream, half with cocoa cream – remained much sought after and were sold under the counter.
The "Halloren-Kugeln" remained a successful product even after the fall of the Berlin Wall and the privatisation of the GDR combine. Many flavours were added to the product range, but each of them still divided into two halves with different fillings.

Bilder: Halloren Schokoladenfabrik AG
Last updated: 3 February 2023