Content
Filinchen – the waffle bread from Apolda

Registered word/figurative mark "Filinchen" DE30156584
Popular in GDR times
"Filinchen" is a thin waffle bread from Thuringia, which was very well known and popular in the GDR. Even today it is still being produced in Apolda and is now available all over Germany. But "Filinchen" is neither a crispbread nor a waffle, but a crunchy bread baked in a waffle iron.
The waffle bread consists of elongated, golden-coloured slices. It is brittle and breaks very easily and therefore only soft spreads can be applied to it. Typically, "Filinchen" is eaten with sweet toppings such as honey, nut spreads or jam, but occasionally also topped with savoury spreads or cold cuts.
Made with love – for Felicitas
"Filinchen" dates back to the master baker Oskar Kompa, who had opened a small business in Apolda in 1946. Industrial-scale waffle production began in 1949, followed by the production of dietary products in 1956; at that time, the crunchy bread was also produced for the first time. Oskar Kompa wanted to bake something very special for his childhood friend Felicitas (nickname "Filinchen") and so the name "Filinchen" was born. On 19 June 1958, he applied for the word mark DD624275 "Filinchen" with the then Office for Inventions and Patents and the trade mark was registered on 2 September 1958. Oskar Kompa also invented a special baking tin, which is characterised by irregular dot-like elevations and depressions, thus diverging from a waffle-like impression.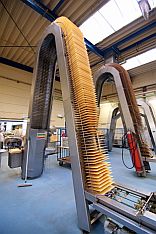 Filinchen-Produktion
In 1960, the private company Gutena (short for Gute Nahrung [good food]) of the couple Oskar and Martha Kompa was converted into a company in which the state held a share. By the way, the trade mark DD618212 "Gutena" was applied for on 14 November 1955 and is still valid today.
After the expropriation, the Kompa family moved to the Federal Republic of Germany in 1961 – the Deutsche Investitionsbank became the sole shareholder of the company. Finally, "Gutena" became a state-owned company in 1972.
"Filinchen" successful even after German reunification
In 1990, Gutena GmbH (limited liability company) was created – the Treuhandanstalt (trust agency) became the sole shareholder, and, in 1992, the company was privatised. Since then WHG Weißenfelser Handels-Gesellschaft mbH has been the owner.
There was a brief slump in sales after 1990, however, over the last 30 years, "Filinchen" has succeeded not only in maintaining its regional reputation as a branded article but has also been listed in consumer markets throughout Germany. The product, which was formerly sold under the counter, is now being offered even on the European and international market. After extensive investments (construction of new production halls and modernisation of technology), the company is now one of the most modern companies in the Free State of Thuringia.

Pictures: WHG Weißenfelder Handelsgellschaft mbH
Last updated: 3 February 2023