Content
100th birthday of Lucky Luke´s inventor

Probably the most popular characters in the Lucky Luke comics: the Dalton brothers (002903847)
Morris and the man who draws faster than his shadow
One of Europe's most successful comic creators would now have celebrated his 100th birthday: Maurice De Bevere, better known by his pen name "Morris". He is the creator of Lucky Luke, probably the most famous European comic character alongside Asterix and Tintin. In Germany alone, more than 30 million copies of the lone cowboy's stories are said to have been sold.
Morris, born on 1 December 1923 in Kortrijk (Courtrai) in Belgium, enjoyed drawing a lot as a child, especially caricatures of his teachers. He achieved his first professional success at the family magazine "Le Moustique", for which he drew covers from 1944. He soon moved to the Dupuis publishing house. It was here that he first drew a picture story featuring a cowboy called Lucky Luke, who would later make him world-famous. It appeared in the "Almanach Spirou" in 1946.
The cowboy first appeared in Germany in 1958 and since then around 90 comic albums, various cinema films (both animated and live-action), cartoon series and numerous Lucky Luke merchandise items have been published. Strange enough, the author and publisher seem to have had somewhat neglected brand protection for a long time; it was only after Morris' death that the publisher (Dargaud) secured Luke's name and profile as brands (002826212, 002730620 and 002730596, 002779874; all registered in 2002).
Nicked film stills as inspiration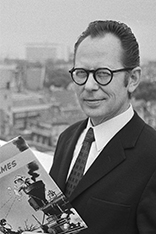 Maurice De Bevere aka Morris, 1971
The young Morris was enthusiastic about the pioneering days of the USA, read Karl May and watched westerns with great enthusiasm. But it wasn't easy to get hold of material: "At the beginning of my career, it was exceptionally difficult to get hold of solid documentaries about the Wild West," he later recalled. "Today it's child's play, but back then... I had to resort to all kinds of tricks. My favourite material was film photos. And I usually had to steal them from the display cases outside the cinemas because I couldn't get them in the normal way. Someone always stood on the lookout - usually Franquin - and I nicked the photos I absolutely needed."
Morris went to the USA for five years with Andre Franquin, who would soon also become one of the most important European comic artists (Gaston, Marsupilami), and his also very successful colleague Joseph Gillain, alias Jijé. There he studied American comic culture, eagerly collected material for his western stories and got to know the editorial team of the style-defining "MAD" magazine.

A momentous encounter in New York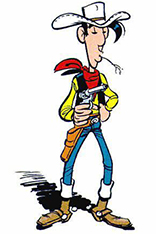 Trade mark 002826212
In New York, he had a fateful encounter with René Goscinny, who was born in Paris and grew up in Argentina, the offspring of a Polish-Jewish emigrant family who is now considered to be the greatest of all comic script writers.
In 1955, when everyone was living back in Europe again, Goscinny became the scenario writer for "Lucky Luke". "I have the great privilege of being the first person for whom Goscinny created scenarios," says Morris. Until then, he had written his own stories since the first album "La Mine d'or de Dick Digger" was published in 1949.
Goscinny had been editor-in-chief of the magazine "Pilote" since 1963, which had a formative influence on Franco-Belgian comic culture. It also saw the debut of a small, indomitable Gaul, whom Goscinny had conceived together with the illustrator Albert Uderzo.
The collaboration between Goscinny and Morris marked the beginning of the glorious "classic" Lucky Luke period. It comprises 37 albums, which are among the best and most popular comics in the world (even if, ironically, they are hardly known in the USA).
Gangsters and guests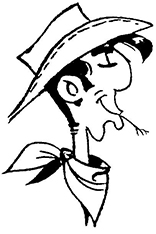 No more fag: Lucky Luke´s profile (Trade mark 002730620)
The most popular characters in the stories were created during this phase, above all the Daltons (002903813). The foolish organ-pipe brothers (Morris' favourite characters) are based on historical figures from the pioneering days of the West, as are Billy the Kid, Jesse James, Calamity Jane and various US presidents, who also appear. Some other characters, on the other hand, borrowed their likeness from a prominent personality from the present day. For example, the actors Jean Gabin, David Niven and Louis de Funès made "guest appearances" in the comics - a gag that Goscinny also liked to use in the "Asterix" stories.
The golden years ended abruptly in 1977 with Goscinny's untimely death. Like Uderzo, Morris decided to continue on his own or with other writers. However, neither could maintain the level of their series. In contrast to Uderzo, however, Morris' drawings also lost much of their quality with increasing age.

Ciggies no more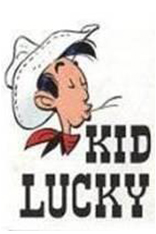 Recent spin-off (014707442)
In his more mature years, the already overly well-behaved Lucky Luke lost his only vice, smoking. Instead of the inevitable roll-up, the cowboy has only had a straw in the corner of his mouth since the 1980s. Morris received an award from the World Health Organisation for letting Lucky Luke quit smoking.
Unlike his colleague Hergé, who forbade the continuation of Tintin in his will, Morris specifically encouraged the continuation of "Lucky Luke" after his death. After Morris died in Brussels on 16 July 2001, the illustrator Achdé (Hervé Darmenton) took over the series and has continued it very successfully to this day.
And so the hero continues to ride off into the sunset after every adventure on his faithful horse Jolly Jumper, accompanied by his daft dog Rantanplan, singing: "I am a poor lonesome cowboy and a long way from home".

Text: Dr. Jan Björn Potthast; Pictures: DPMAregister, Peters Hans / ANEFO Nationaal Archief, CCO, via Wikimedia Commons
Last updated: 20 November 2023