Content
August Horch

When driving a car was still an adventure: August Horch steering his Horch 11 "Torpedo" at the "Prinz-Heinrich-Rundfahrt" race in 1908
The godfather of fast cars

His name puts a smile on the faces of classic car enthusiasts: August Horch, one of the great pioneers of automotive engineering.
When Horch was born on 12 October 1868 as son of the village blacksmith of Winningen on the Moselle, no one would have thought that one day he would become one of the most flamboyant personalities in the history of mobility. After primary school, he began an apprenticeship as a blacksmith. Having passed his journeyman's examination, he set out on his travels. For three years, he travelled through the countries of the Austro-Hungarian Monarchy, Serbia, Bulgaria and other regions.
In 1890, the young technophile completed his studies in mechanical engineering and engine construction at the Technical University in Mittweida (Saxony). This was a remarkable social advancement enabled by his talent and thirst for knowledge. "I was obsessed with the desire to learn at that time," he recalled later.

Start with Benz
His first jobs led him to a shipyard in Rostock, where he designed ship engines, then to Leipzig, where Horch worked on a combustion engine for a torpedo ship. It was in October 1896 when the foundation of his lifelong commitment to automotive engineering was laid. He became an employee of what was then the world's largest car factory – Benz & Cie – in Mannheim. Only four months later, vehicle pioneer Carl Benz appointed him plant manager for motor vehicle construction.
August Horch soon had his own ideas of what a perfect car should be: above all, more powerful and faster than the established models, which ran at a maximum speed of 11 miles per hour. However, there was no room for his visions at Benz, so that in 1899, he became self-employed. Jointly with the cloth dealer Salli Herz he founded the company "A. Horch & Cie" in Ehrenfeld, Cologne.

"Only big, powerful and reliable cars"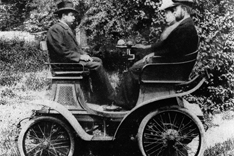 Carriage for conversation: Horch Modell 1 "Vis à vis" with 2 cylinders and 4-5 HP, steered by August Horch himself
At first, the company mainly repaired car engines, but Horch worked intensively on his first car. His first patents included a commutator switch that considerably accelerated the ignition of vehicle engines (

GB190618083A). Soon Horch took his first ride with a self-built automobile. Actually, it was rather still a motor carriage similar to Benz´ first cars. It came without doors and with candle lanterns but for the first time with friction clutch and cardan shaft.
Horch wanted "under all circumstances to build only big, powerful and reliable cars". But his innovative, luxurious cars were too expensive and thus, Horch had no commercial success. The search for new investors first led him to Reichenberg. In 1904, he came to Zwickau, where he established the great Saxon automotive manufacturing tradition with his company – now a joint-stock company.
At last, a certain success came about. The expensive, but excellent cars sold in acceptable numbers and Horch was a successful participant in prestigious races sitting behind the wheel of his creations (by the way, he never had a driver's licence). In 1909, however, the dissatisfied shareholders demanded changes in the company, partly due to a lack of racing success. Horch left, the conflict persisted.

Lost name rights

Horch founded a new automobile company in Zwickau right away. Once again, it was supposed to be named after him: "August Horch Automobilwerke GmbH". But that was no longer possible, as Horch AG insisted on its trade mark rights and sued its founder. August Horch lost the case and had to find another company name.
At that time, a business partner of Horch had a son who was studying Latin. And the son had a quite charming idea: He translated the founder's name into Latin – "Audi" was born. Since then, August Horch had used the signature "Ihr Audi-Horch" (Your Audi-Horch) rather frequently. By the way, Audi had the signature registered as a combined word/figurative mark for merchandising articles in 1998 (39866670).
The first Audi rolled through the factory gate on 24 August 1910. The new company was a success. Horch won important races with his Audi Type C, such as the 1914 Alpine Tour (in which he left the Horch cars far behind). From this time on, the model was called Alpensieger ("Alpine Victor"). By the way, Horch drove the winning car for another 15 years and then donated it to the Deutsches Museum in Munich, where it

can still be seen today.
An engineer as chicken breeder

The First World War forced Audi to build armoured cars and mortars instead of cars. After the war, Horch began to gradually retreat from being an engineer. In 1923, he still introduced left-hand control, which was later adopted almost all around the globe. The use of light metal in engine construction, high-strength steel in gearbox production and the introduction of centre shifting can be traced back to Horch and Audi as well.
In the 1920s, Horch slowly withdrew from car manufacturing. He became a member of the supervisory board, worked as traffic expert in Berlin and later even tried breeding chicken or growing wine. However, these were futile efforts, because as an entrepreneur he had no luck all his life.
At the end of the 1920s, Audi also went downhill. In 1932, the consequences of the global economic crisis finally forced Audi and Horch into a merger with the small car and motorcycle manufacturer Zschopauer Motorenwerke (DKW) and the automobile plant Siegmar der Wanderer-Werke. A new group of companies named "Auto-Union" with headquarters in Chemnitz was formed – the second largest German car manufacturer after Opel. Its logo consisted of four intertwined rings representing the individual partners of the merger. August Horch was elected a member of the supervisory board. The four independent brands continued to develop successfully. Horch in particular became a profitable luxury brand of the 1930s. The aging August Horch was held in high regard as a technology pioneer and wrote his memoirs entitled "Ich baute Autos" ("I built cars"). Finally, the Second World War caused civil automobile construction to come to a halt.

A new beginning after the war
Horch still lived to see how Auto-Union was re-established in Ingolstadt after the war, before he died as an impoverished honorary citizen and holder of an honorary doctorate on 13 February 1951 in Münchberg, Franconia. The Audi brand (with the four rings of the Auto-Union as its trade mark) survived him and became very successful as part of the VW Group from the late 1960s onwards. Today, "Horch" only exists as a trade mark name (e.g. 121898 ), which is owned by Audi.
With 1088 patents in 2020, the company was one of the seven most active applicants in Germany. This would surely have pleased August Horch who, throughout his life, not only wanted to build fast but also innovative cars.

Pictures: Audi AG
Last updated: 28 September 2023