Content
Germany is leading in the field of climate-friendly innovations

Analysis on the occasion of the DPMAnutzerforum 2022: Germany leads the patent ranking in the field of e-mobility and renewable energy sources – the number of renewable energy inventions is stagnating – DPMA President: Innovations make Germany less dependent on fossil fuels
Press release of 29 March 2022
Munich. German companies are leaders in the field of climate-friendly technologies in the German market. As measured by the number of patent applications effective in Germany, German companies, research institutions and independent inventors are leading the rankings of renewable energy sources and technologies that support climate-friendly mobility. However, taken as a whole, the dynamism in innovation differs markedly between the two fields of technology: While innovation activity in e-mobility and alternative energy sources has increased significantly in recent years, the development of alternative power generation has stagnated for years and is far below the level of 2012. Last year, the number of patent applications effective in Germany published by the German Patent and Trade Mark Office (DPMA) and the European Patent Office (EPO) even decreased slightly.
The data are part of an analysis carried out by the DPMA on the occasion of its DPMAnutzerforum 2022 expert conference in March. Many representatives from the business community and from law firms and IP service providers had registered for the event, which was held in a digital format due to the pandemic this year. In addition to recent developments in the areas of patents, utility models, trade marks and designs, the event focused on mobility and climate-friendly energy technologies.

DPMA President: Encouraging signal in the field of automotive industry

"In view of the technological changes in the automotive industry, the result of our analysis in the field of alternative drive systems is an encouraging signal," said DPMA President Cornelia Rudloff-Schäffer. She added: "One thing is clear: We need clean power for e-mobility too. The method of power generation plays a key role in fighting climate change. In addition, the current political situation shows that we need to become less dependent on fossil fuels. This means that more innovative dynamism is needed in the field of renewable energy sources too. Technology leadership in this field promises enormous economic opportunities for Germany as an export nation. And it is an important contribution to the energy sovereignty of Germany and Europe."
With regard to the fields of technology crucial to e-mobility, the number of inventions in battery technology is particularly high: Last year, the DPMA and the EPO published 3,374 patent applications effective in Germany in this field, i.e. 110.6% more than ten years ago. At the same time, there were 920 publications concerning fuel cells – an increase of 36.3% compared to 2012. In this context, the relevant IPC fields for battery and fuel cell technologies were considered as a whole rather than with a limitation to automotive engineering. Innovation concerning electric drives was also very dynamic; in this field, 684 patent applications were published in 2021, i.e. 50.0% more than ten years ago (see DPMA fact sheet "

Vehicle drive technologies").
Synthetic fuels for combustion engines produced using electricity, known as e-fuels, are a relatively new development field for climate-friendly e-mobility. If the electric power necessary for the production of synthetic fuels comes from renewable energy sources and the necessary carbon dioxide can be taken from the atmosphere, engines can run in a climate-neutral manner. The number of applications in this field has also increased significantly in recent years, whereas the number of publications is still relatively low (2021: 59). However, the number of applications concerning combustion engines has decreased considerably since 2016.

Battery technology: Enormous increase in Chinese patent applications
DPMAnutzerforum 2022
Reports, pictures, documents and videos from the DPMAnutzerforum 2022 can be found here.
In all mobility-related fields of technology reviewed, Germany takes first place in the country ranking in terms of applications filed. However, the trends in the individual fields are different: While in 2021 applications concerning batteries (-7.3%) and electric drives (-4.9%) saw a slight decrease compared to the previous year, the number of applications concerning fuel cells increased significantly (+89.8%). Half of all patent applications concerning fuel cells (49.7%) and electric drives (50.7%) that were published last year came from Germany. One thing that is striking in the country ranking is that in 2021 publications from China related to the highly important battery technology increased considerably compared to the previous year (+59.3%).
Bayerische Motoren Werke AG (BMW), ranked fourth, was the only German company and the only carmaker among the top 5 companies in the manufacturer ranking for battery technology. All other manufacturers in the ranking were Asian. The ranking for fuel cells was led by Robert Bosch GmbH and AUDI AG. The top 5 companies in the ranking for electric drives are all German companies. Audi took first place ahead of Bosch, followed by BMW, VOLKSWAGEN AG and Daimler AG.

Renewable energy sources: Slump in innovation compared to ten years ago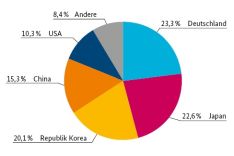 DPMA fact sheet "Renewable energies"

for download
Germany also held a leading position in the country ranking for renewable energy sources in the past three years. Germany took first place in solar technology, hydropower and other regenerative energy sources such as geothermal energy and biogas. However, the ranking for wind generators, which represent the top field of technology in terms of applications filed, was led by Denmark; Germany came second.
In the past three years, the wind generator ranking of manufacturers was led by Siemens Gamesa Renewable Energy A/S and Vestas Wind Systems A/S, both based in Denmark, followed by General Electric Company (USA) and the two German companies Wobben Properties GmbH and Servion GmbH. The French Alternative Energies and Atomic Energy Commission led the solar technology ranking. German manufacturers were not among the top five manufacturers in this field. As regards other technologies, the number of patent applications per manufacturer was so low that we did not make a ranking.
Overall, the level of applications filed in the field of renewable energy sources was markedly lower than ten years ago. While 2,246 patent applications were filed in this field in 2012, there were only 1,099 filings in 2021 (-51.1%), with a particularly sharp decline of -62.3% in the field of solar technology. Since 2016, the annual number of published applications concerning renewable energy sources has stagnated at 1,100 to 1,200. Possible reasons for this could be worse economic and political framework conditions compared to previous years. International patent applications filed with the World Intellectual Property Organization that relate to renewable energy sources have recently been in decline too.
Important information on the methodology: This analysis considers published patent applications effective in Germany in the mentioned fields of technology filed with the DPMA and the European Patent Office, avoiding double counting. Patent applications are published after 18 months. This means that inventions newly filed in 2021 are not included in the analysis.
The analysis considers the most relevant technology classes (IPC). For lack of totally adequate classes for the individual fields, the analysis is not exhaustive. Furthermore, it may contain inventions that do not match the technology field reviewed.

The German Patent and Trade Mark Office

Inventiveness and creativity need effective protection. The DPMA is the German centre of expertise for all intellectual property rights – patents, utility models, trade marks and designs. As the largest national patent office in Europe and the fifth largest national patent office in the world, our office stands for the future of Germany as a country of inventors in a globalised economy. Its staff of just under 2,800 at three locations – Munich, Jena and Berlin – provide services to inventors and companies. They implement federal innovation strategies and develop the national, European and international IP systems further.

Pictures: iStock.com/artJazz
Last updated: 11 May 2023