Inhalt
Where can I find information, advice, support and funding opportunities?

Information services offered at the DPMA
We provide information to you on these SME pages and you can also find further support on the following DPMA webpages:
---
Up to 1,500 EUR grant for small and medium-sized enterprises (SMEs)
The COVID 19 crisis has reminded us once again that we depend on critical innovations and technologies not only in the health sector. Against this background, the European Commission, together with the EUIPO, will in the short term provide financial support and vouchers to SMEs affected by the COVID-19 crisis to identify and register their intellectual property rights.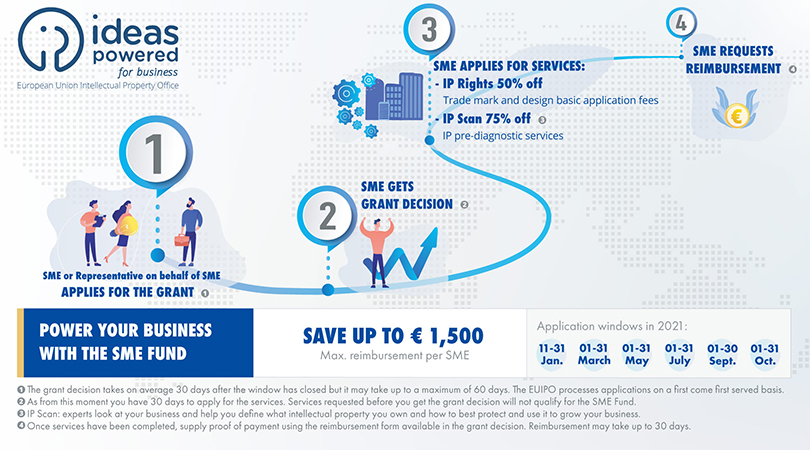 The EUIPO's one-year, €20 million grant program came into effect on January 1, 2021, and subsidizes IP scan and application costs for national, regional and EU trademarks and designs.
Intellectual property rights pre-diagnosis (IP scan) measures are key to developing a corporate IP strategy. Corresponding services are subsidized by 75 percent under this funding program and are provided in Germany by external experts. Preliminary diagnoses of intellectual property rights (IP scan) do not constitute a legal service.
Registration costs for national, regional and EU trademarks and designs are subsidized by 50 percent.
SMEs can apply directly for funding at the following link:

https://euipo.europa.eu/ohimportal/en/online-services/sme-fund.
Further support measures and information, for example on a so-called pro bono grant, and on EUIPO Effective Dispute Resolution (EDR) services, can be found on the

EUIPO website.
---
Patent information centres – your local service providers
The German patent information centres are the regional IP contacts for inventors, companies and research institutions. As recognised long-standing cooperation partners of the DPMA, they offer comprehensive information on industrial property protection at 20 locations throughout Germany, especially for SMEs and people starting up in business. As competent service providers, they offer their customers high-quality, tailor-made services and guarantee confidentiality and secrecy.
More information about the patent management services offered by patent information centres is available at

www.piznet.de (in German).
Legal advice and representation
Basically you can apply for IP rights yourself. However, it may be useful to consult a patent attorney or a lawyer experienced in the field of IP protection before filing an application. This helps to avoid possible errors during the application procedure, which cannot be corrected later. If the sought-after IP right later brings significant added value for your company, the additional financial expense for legal representation should have been worthwhile.
Addresses of

patent attorneys can be found on the Internet.

Regular information events
Other organisations providing information and support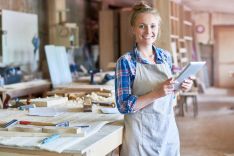 Funding opportunities for SMEs
Picture 1: iStock.com/stevanovicigor, Picture 2: EUIPO, Picture 3: iStock.com/seventyfour
Last updated: 6 August 2021