Content
A "stroke of luck" for the Federal Ministry of Justice and the DPMA

State Secretary Dr. Angelika Schlunck of the Federal Ministry of Justice with Ulrich Deffaa and DPMA president Eva Schewior
State Secretary Dr Angelika Schlunck is going to bid DPMA Vice-President Ulrich Deffaa farewell ahead of his upcoming retirement − DPMA President Eva Schewior: "An outstanding lawyer, cordial and committed as a person" – Great achievements in making the DPMA an attractive employer
Press release, 24 July 2023
Munich. State Secretary of the Federal Ministry of Justice (BMJ) Dr Angelika Schlunck has bidden the Vice-President of the German Patent and Trade Mark Office (DPMA) Ulrich Deffaa farewell in a ceremony ahead of his upcoming retirement in Munich. Not only did the State Secretary applaud his successful work at the DPMA, she also praised Mr Deffaa for his prior work at the Federal Ministry of Justice, calling him a "stroke of luck" for the Ministry. She highlighted, in particular, his achievements concerning the European General Data Protection Regulation (GDPR), which had entered into force in 2016. Although negotiations had been tough, Mr Deffaa had managed to successfully close the project as Head of the Unit in charge of data protection at the Federal Ministry of Justice. That had earned him a great deal of respect "far beyond the Federal Ministry of Justice".
DPMA President Eva Schewior expressed her appreciation for the retiring Vice-President, calling him an "outstanding lawyer, cordial, always positive and committed as a person". She stressed Mr Deffaa's notable accomplishments in the strategically crucial positioning of the DPMA as an attractive employer. Moreover, she pointed out that in times when skilled staff is a scarcity, recruitment is also about the future of the Office, mainly because the DPMA – as a public authority – has to compete with internationally operating high-tech companies in this regard. She highlighted that Mr Deffaa had been quick to raise the right questions and create important momentum for the design of the new world of work at the DPMA.

Administrative law judge, data protection expert, public administrator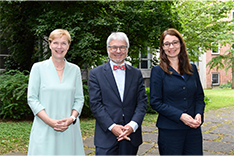 The option to work from home having been expanded due to the COVID-19 pandemic, Mr Deffaa in particular advanced the new staff agreement (Dienstvereinbarung) concerning flexible work in terms of location and promoted new work space designs. The new staff agreement, permanently in force since this year, provides for attractive ways for DPMA staff to work outside the office spaces. That way, staff are supposed to have a maximum of flexibility in terms of time management and location when carrying out their tasks. Mr Deffaa was in charge not only of questions concerning the "new world of work" as well as work and leadership culture, but also of matters concerning data protection and digitisation at the DPMA.
Ulrich Deffaa studied law at Ludwig-Maximilians-Universität München. In 1988, he started working in the administrative justice system of the German Land of North Rhine-Westphalia. He was a judge at various administrative courts as well as the high administrative court (Oberverwaltungsgericht) in Münster. For one year, he was Head of Department (Dezernent) in the administration of the district of Minden-Lübbecke. Between 1997 and 1998 and again from 2007 onwards, Mr Deffaa was seconded to the Federal Ministry of Justice, where he started out as Head of Section (Referent) in charge of economic law and in the directorate for overarching tasks (Zentralabteilung). Having permanently joined the service at federal level, he was Head of the Unit in charge of general data protection law and federal statistics law between March 2013 and 31 December 2018. He joined the DPMA in 2019 and became the first lawyer to take up duties as Vice-President, a post previously always held by technical staff.

The German Patent and Trade Mark Office
Inventiveness and creativity need effective protection. The DPMA is the German centre of expertise for all intellectual property rights – patents, utility models, trade marks and registered designs. The largest national patent office in Europe and the fifth largest national patent office in the world, our office stands for the future of Germany as a country of inventors in a globalised economy. Its staff of just under 2,800 at three locations – Munich, Jena and Berlin – provide services for inventors and companies. They implement federal innovation strategies and develop the national, European and international protection systems.

Pictures: DPMA / Frank Rollitz
Last updated: 1 December 2023