Content
Patent grants at a record level again

Annual figures for 2022: German Patent and Trade Mark Office was once again very efficient – the number of patent applications stabilised, but far fewer inventions came from Germany – trade mark applications back at their pre-COVID-19 level
Press release of 9 March 2023
Munich. Last year, the German Patent and Trade Mark Office (DPMA) once again proved to be very efficient. The examiners of the DPMA granted patents for 23,592 inventions. This means that the number of patent grants increased by 11.7% compared to the previous year, reaching its highest level in more than 30 years. Granted patents make companies more attractive for investors, enable them to enter into more advantageous cooperation agreements and to exclusively market new products themselves. This strengthens their competitiveness and gives them planning certainty and new options for action.
Not only did the DPMA again grant a large number of patents in 2022, but it also slightly reduced the number of pending examination procedures for the second time in a row. "We have managed to reverse the trend. Especially thanks to the additional posts approved in recent years and thanks to our successful recruitment campaign, we can, step by step, clear the backlog in patent examination. If fewer examinations are pending, we will also be able to gradually reduce the time it takes to complete a procedure," DPMA President Eva Schewior said, adding: "At the same time, the quality of patent examination remains our top priority. This is what our applicants can rely on."
Decline in patent applications from Germany
The number of patent applications at the DPMA stabilised after its significant decline during the COVID-19 pandemic: In 2022, the DPMA saw only a slight decrease in applications by 2.3% compared to the previous year, receiving a total of 57,214 patent applications.
The number of requests for examination, an important indicator for innovation activity, was also at the level of the previous year. At the DPMA, applicants have seven years to file a request for examination for their patent application and thus to have the examination procedure started. Such a request for examination is not filed for every application. Yet, in the case of important applications, it is assumed that sooner or later a request for examination is filed in order to obtain a patent for the invention concerned. Last year, 42,449 valid requests for examination were filed with the DPMA – only slightly fewer than in 2021.
However, what is remarkable is that the numbers that were stabilising concerned especially the applications by foreign companies. Last year, foreign applicants filed 20,020 inventions, an increase by almost 7% compared to 2021. The total number of inventions filed from Germany, however, was 37,194, a decrease by 6.6% compared to the previous year. The situation was similar for requests for examination. Countries from which the DPMA received considerably more applications last year included, for example, the United States (+16.2%), Japan (+3.4%), China (+23.6%) and the Republic of Korea (+5.0%).

A trend towards computers and away from internal combustion engines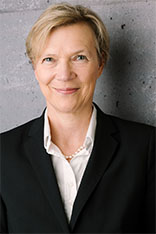 DPMA president Eva Schewior
The declining number of German applicants was possibly still due to the impact of the COVID-19 pandemic. Obviously, there is also a structural change in innovation activity that has a particular impact on German industry: While inventions in the field of electrical engineering increased, the number of patent applications in the fields of mechanical engineering and automotive industry, with their traditionally high numbers of filings by German applicants, fell. Since 2016, the share of the electrical engineering sector in total applications had been increasing from 21.7% to 29.0%. During the same period, the share of mechanical engineering had fallen from 46.4% to 40.6%.
In 2022, the electrical engineering sector saw a particularly significant increase in the technology field "Computer technology" (+19.5%). Of great importance in this field were, among other things, innovations using artificial intelligence or machine learning. The strong technology field "Electrical machinery, apparatus, energy" also continued to increase (+1.9%), also because considerably more patent applications for batteries were received.
By contrast, there was a sharp decline in some technology fields in the mechanical engineering sector: Applications in the field "Engines, pumps, turbines" decreased by 17.9%. The foreseeable end of the sale of internal combustion engine vehicles was certainly an important factor for the reduced innovation activity. Even in the traditionally strong technology field "Mechanical elements", our office received significantly fewer patent applications (-11.9%). In addition, there was a decline in innovations in medical technology (-11.2%), which is part of the sector "Instruments".

"The structural change in the innovation landscape is gaining impetus. Digitisation, automation and artificial intelligence as well as battery technology play an ever more important role," DPMA President Eva Schewior said, adding: "As regards the number of patent applications, the effects of this development currently are not exactly beneficial to Germany."
The different development of applications from Germany and from abroad became even more obvious in the utility model area. While foreign applicants filed 11.3% more utility models, filings from Germany decreased by 21.5%. Because of the reduction in applications from Germany, there was a considerable decline in the total number: The DPMA received a total of 9,469 utility model applications – a decrease by 10.5% compared to 2021. Like patents, utility models protect technical inventions. Unlike patents, however, utility models are only subject to limited examination.

Top technology fields, top applicants
As in previous years, the strongest technology field in terms of patent applications was "Transport" with 10,329 applications (-1.6%), followed by "Electrical machinery, apparatus, energy" with 7,317 applications (+1.9%) and "Measurement" with 4,290 applications (-4.5%).
Among the top companies in terms of applications, Robert Bosch GmbH ranked first with 3,946 inventions filed. Bayerische Motoren Werke AG (1,867 applications) and ZF Friedrichshafen AG (1,394 applications) came second and third, respectively, in the application ranking.
It is remarkable that, despite the decline in applications concerning the internal combustion engine, all of the top 10 companies in terms of applications were car manufacturers or suppliers. By far the most considerable increase in this regard, however, was achieved by the foreign companies Ford Global Technologies, LLC, which ranked sixth (+22.8%), and GM Global Technology Operations LLC, which ranked seventh (+57.5%).
As in the previous year, the application ranking of the German Länder was led by Baden-Württemberg with 13,444 inventions filed (-0.9%), considerably widening the lead over Bavaria, which came second with 10,548 patent applications (-11.2%). Almost two thirds of all applications (64.5%) came from the two Länder in southern Germany. In 2022, North Rhine-Westphalia again ranked third with 5,292 applications (-6.7%).

Applications in the trade mark and design areas
In 2022, there was also a decline in applications for trade marks and designs. As for trade mark applications, the level (77,427 applications) was about the same as in 2019 but significantly lower than in the previous year (-16.1%). In the two previous years, trade mark applications had soared because of the COVID-19 pandemic and the boom in e-commerce.
With respect to the classes of goods and services most frequently requested for trade marks, there were hardly any changes: The class most frequently requested by applicants was "Advertising; business management" (Class 35), followed by "Education; entertainment; sporting and cultural activities" (Class 41) and "Electronic apparatus and instruments; computer hardware; software; optical devices" (Class 9).
Last year, 33,652 design applications were filed with the DPMA – a decrease by 9.6% compared to the previous year.

Procedures concluded
In 2022, a total of 45,498 patent examination procedures were concluded. Although this was a 6.2% decrease compared to the previous year, the increase in procedures concluded by the DPMA with a grant or refusal (32,891) was 4.6%. The opposing trends resulted from the considerably lower number of withdrawals in 2022. During the COVID-19 pandemic (in 2020 and 2021), many companies had dropped significantly more patent applications – possibly to save costs. In 2022, the number of withdrawals fell to the pre-COVID-19 level; obviously, the adjustment of the application portfolios had been largely completed.
In the design area, too, the DPMA concluded more procedures than in the previous year (+15.6%). However, in view of the very high level of the previous year, the number of procedures concluded in the trade mark area decreased (-18.1%). There was also a decline in concluded utility model procedures (-13.1%) as a result of the considerable decrease in applications.

Budget: DPMA once again achieved a substantial surplus
Budget: DPMA once again achieved a substantial surplus
In 2022, the DPMA closed with a surplus of 236.2 million euros (+10.0%), which will benefit the federal budget. Compared to the previous year, the income, almost entirely from fees, increased by 3.6% to 479.7 million euros. Expenditure decreased by 2.0% to 243.5 million euros.
The German Patent and Trade Mark Office
Inventiveness and creativity need effective protection. The DPMA is the German centre of expertise for all intellectual property rights – patents, utility models, trade marks and designs. As the largest national patent office in Europe and the fifth largest national patent office in the world, our office stands for the future of Germany as a country of inventors in a globalised economy. Its staff of approximately 2,800 at three locations – Munich, Jena and Berlin – provide services to inventors and companies. They implement federal innovation strategies and develop the national, European and international protection systems further.

Bilder: iStock.com/goir, DPMA
Last updated: 21 September 2023