Inhalt
Required Data for Filing an Application
Trade Mark Law Modernisation Act (Markenrechtsmodernisierungsgesetz), 14 January 2019:
This page is currently being revised and adapted to the changes of the Trade Mark Law Modernisation Act. The German trade mark pages have already been revised.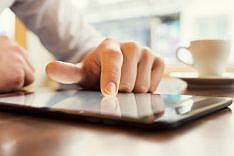 You can file your trade mark application online (without signature), electronically (with a signature) or file a conventional paper-based application. For filing your application at the German Patent and Trade Mark Office (DPMA) you can also appoint an agent as representative. In any case, you must provide certain minimum information on the applicant, on the desired trade mark as well as on the list of goods and services.
Data of the applicant
The applicant may be

a natural person (private individual)
a legal person
a partnership having legal capacity (Sec. 7 Trade Mark Act [Markengesetz])
The data on the applicant must include the name and address.

Types of trade marks and their representation
Everybody may file a trade mark application: words, letters, numbers, images, even colours, three-dimensional objects and acoustic signals can be protected as trade marks. For entry in the Register at the German Patent and Trade Mark Office you must decide whether you want to register your trade mark as a

For the representation of trade marks please note our formal requirements. These are available in our

information leaflet "How to file the representation of a trade mark?" (in German).
Notice: The above-mentioned types of trade marks can also be registered as a collective mark. Only associations having legal capacity can own collective marks because a collective mark is a sign of a trade association. That means: an association may obtain trade mark protection for identical goods or identical services for its member companies.
Five facts that you have to know
1. The illustration of the trade mark is an obligatory component of the trade mark application; it must accurately represent the trade mark!
2. The scope of protection and the chosen type of trade mark must be clearly recognisable, otherwise you may not be able to secure the date of filing of your trade mark application as the filing date!
3. File a trade mark application which shows your trade mark exactly as it is intended to be protected because you cannot change the representation of your trade mark subsequently!
4. You should not add an ® to the trade mark illustration when you file the application because the application might be in danger of being refused due to a possible risk of deceiving the public, pursuant to Section 8(2) no. 4 of the Trade Mark Act!
5. Use your registered trade mark, because if you do not use it within a period of five years after registration it may be cancelled, upon request or legal action because of revocation!
List of goods and services
Trade marks are registered for specific goods and services. The goods and services for which you intend to use the trade mark must be specified exactly. Therefore, your application must contain a list of the intended goods and/or services. All goods and services are divided into 45 classes. More information on preparing a list of goods/services, the leading class and additional class fees is available in "Detailed Information Regarding the List of Goods and Services".

Searching for goods and services
eKDB (TMclass)
MGS (WIPO)
Nice Classification
Important: After having filed an application with the DPMA, you can no longer extend the list of goods and services. However, limitations are possible anytime.
Picture: iStock.com/LDProd
Last updated: 15/02/19