Content
Enquiry Units
The inquiry units, search rooms, document receiving services and cash desks of the DPMA are open. For details, see the opening hours


Munich receiving service, including the cash desk, is closed until further notice. Mail items are accepted at the gate, cash deposits are currently not possible.
Face-to-face advice and initial consultations for inventors are provided subject to appointment only. Outside our opening hours, you can use the automated mailboxes in Berlin and Jena. In Munich, you can hand in any mail and items at the reception desk.
The customer service staff can be reached by telephone and e-mail at:
Service area
Telephone
E-mail
Central Customer Care and Services
089 2195-1000
info@dpma.de
Hotline for database users
089 2195-3435
datenbanken@dpma.de
Your direct point of contact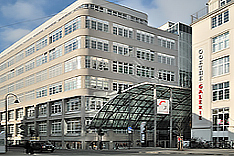 DPMA in Jena
If you would like to discuss your questions about industrial property rights directly with DPMA staff, our enquiry units are your first point of contact. They will answer your questions about applications for patents, utility models, registered designs or trade marks.
For example, the following questions will be answered:

general questions on industrial property protection
formal questions in connection with IP applications
questions concerning application documents, information leaflets and brochures
You can discuss your questions directly with our staff at the locations in Munich, Berlin and Jena. Please find here the Opening hours.
You can reach the staff of the enquiry units independent of the location by phone and via e-mail (see Contact).
Note
The Customer Care and Services is not authorised to give legal advice. Legal advice is exclusively provided by patent attorneys and lawyers.
Picture: DPMA
Last updated: 8 February 2023