Inhalt
Trade fairs

The DPMA at Ambiente 2018
At the world's most important consumer goods fair, trade visitors will be able to see all the latest innovations at first hand: from global offerings and market trends to visions of the future. Interest in the trade fair is growing: At the last Ambiente 4,460 companies from 94 nations presented their products.

New products from the areas of dining, giving and living

The trade fair is the stage for everything that makes cooking and housekeeping easier and the food more beautiful: from glass, porcelain and innovative kitchen accessories to small electrical appliances. For all occasions, this area offers an exciting, cross-industry product mix: from gift articles and personal accessories to watches and jewellery. The "living area" makes the future of living, furnishing and decorating tangible.

"Mobile IP experts" at Ambiente
Our "Mobile IP experts" will be on the road at Ambiente 2018 from 9 to 11 February, showing how you can protect your innovations from unwanted imitators. Especially in the consumer goods sector, plagiarism is unfortunately a mass phenomenon.
Who wins the Plagiarius 2018?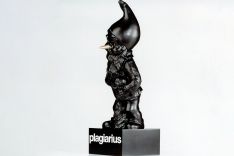 The "Plagiarius" anti-prize for particularly bold counterfeits was awarded at Ambiente on 9 February. The award will be given for the 42nd time. The inventor of the black dwarf with the golden nose is designer Rido Busse from Ulm. He discovered in 1977 that a scale designed by him had been counterfeited and sold on a large scale by a Hong Kong company. He then launched the Plagiarius action. You can read here who is ahead in the "race" for the most audacious counterfeits.
---
Save the date: 46th International Exhibition of Inventions in Geneva - 11 to 15 April 2018
The 46th International Exhibition of Inventions in Geneva will take place from 11 to 15 April 2018. It is under the auspices of the Swiss Confederation and the World Intellectual Property Organization (WIPO). The Geneva Inventors' Fair brings together more than 700 exhibitors from 40 countries, around 30,000 visitors from all over the world and 650 journalists from all over the world. The fair is exclusively dedicated to new inventions and products. It is a meeting place for exhibitors, the general public, mass media and professional buyers and thus offers an ideal platform for the international marketing of new products.

Trade fair calendar 2018
Date
Name of trade fair
Location
Hall/stand
January
09/-11/01/2018
PSI
Düsseldorf
Booth; Hall 9
31/01-04/02/2018
Spielwarenmesse
Nuremberg
Booth together with Deutscher Zoll, Hall 11.1, Booth H-01 and mobile IP experts
February
09/-13/02/2018
Ambiente
Frankfurt
mobile IP experts
March
14/-15/03/2018
LogiMAT
Stuttgart
Booth; Hall 6, Stand 6D61
18/-23/03/2018
Light + Building
Frankfurt
mobile IP experts
20/-23.03/2018
Anuga Food Tech
Cologne
mobile IP experts
April
10/-13/04/2018
analytica
Munich
mobile IP experts
14/-15/04/2018
VELOBerlin
Berlin
Booth
23/-27/04/2018
Hannover Messe
Hanover
Booth together with BMWi (26/-27/04), Hall 2, Stand C28
May
14/-18/05/2018
IFAT
Munich
mobile IP experts
June
11/-15/06/2018
CeBit
Hanover
Booth together with BMWi
19/-22/06/2018
automatica
Munich
mobile IP experts
July
08/-10/07/2018
Euro-Bike
Friedrichshafen
mobile IP experts
September
11/-15/09/2018
Automechanika
Frankfurt
mobile IP experts
18/-21/09/2018
innoTrans
Berlin
mobile IP experts
25/-28/09/2018
Wind Energy
Hamburg
mobile IP experts
Oktober
12/-13/10/2018
deGUT
Berlin
Booth
16/-18/10/2018
eMove 360°
Munich
mobile IP experts
23/-26/10/2018
glasstec
Düsseldorf
Booth
November
01/-04/11/2018
iENA
Nuremberg
Booth
12/-15/11/2018
MEDICA
Düsseldorf
Booth together with Deutscher Zoll
13/-16/11/2018
electronica
Munich
mobile IP experts
15/11/2018
MUT
Leipzig
Booth
no date fixed yet
Markenforum
Munich
IP conference with DPMA stand
Bayerischer Patentkongress
Munich
IP conference with DPMA stand
You can also download our trade fair calendar as a x-Datei CSV file (in German).
[1] Mobile IP experts
Why are industrial property rights important? We will be pleased to answer this question. Even at trade fairs. We often realise that, even though exhibitors at trade fairs require a lot of information about IP rights, they lack the time to visit the DPMA's information stands. We have found a solution. Trained DPMA staff visit exhibitors directly at their stands as part of our mobile trade fair team "Mobile IP experts". We provide information about search facilities and ask the exhibitors what kind of information they need for the protection of innovations, trade marks or designs. In addition, we offer a comprehensive range of written information material online. If you wish, we can also send it by post.
Please make an appointment with us if you would like us to visit you at your stand. You can call us on +49 89 2195-1000.

Contact
If there are any questions concerning the planning of trade fairs, please contact us:
messeorganisation@dpma.de
Picture: International Exibition of Inventions of Geneva
Last updated: 22/02/18