Content
On the Day of Women and Girls in Science

"I have always found medical technology exciting"
Do girls or young women dream of becoming patent examiners? Not necessarily, because few know about this career path. Veronika Kleißl first heard about it as a young adult when she worked in research. She took an early interest in medical technology, as her father worked in this field for a long time. On occasion of the "International Day of Women and Girls in Science" on 11 February, she tells us what she likes about her profession and how she happened to become a patent examiner.
You studied precision engineering and microtechnology. What motivated you to do so?
Actually, it was not specifically precision engineering and microtechnology, but rather the field of study available to students of this degree programme: medical technology. This highly exciting interdisciplinary subject has fascinated me from an early age, perhaps also because my father worked in this sector for a long time.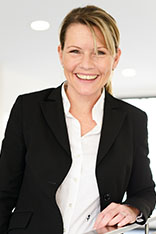 Dr. Veronika Kleißl
When did you first hear that there was such a career as "patent examiner"?
The first time I learned that this career existed was when I worked in research. At that time, it was about applying for a patent for an invention. So I looked into this issue on the DPMA website and found out about the very interesting profession of a patent examiner. Later, when I wanted a change of career and came across a job advertisement in the Süddeutsche Zeitung newspaper, I applied for the post at the DPMA.
What training do you need to become a patent examiner?
First of all, you must have graduated from university with a Master's degree or Diplom in technology or science, for example mechanical engineering, electrical engineering, physics or another science discipline. After that, you should have obtained five years of professional experience in the field of technology or science. I fulfilled these requirements. I applied for a position at the DPMA and was accepted.
And what happened next at the DPMA?
Like everyone else, I had to undergo an 18-month training period. During this phase, I was trained by two experienced patent examiners in a kind of mentoring programme, and was allowed to handle real patent applications from the very beginning. In parallel, I completed a qualifying programme that included training courses as well as group and individual training sessions. In addition, it was important to become familiar with the software required for examination and the various search tools. This is because the processing of our IP procedures is seamlessly electronic – up to and including the sending of decisions and official communications.
What is your daily work routine?
I sit in front of the PC and deal with digital case files. In these files, inventions are described that I examine for novelty, inventive step and industrial applicability. I use our search tools for this purpose, which give me access to databases from all over the world.
My tasks also include communicating with applicants and patent attorneys. Sometimes hearings take place – for example, with the aim of clarifying details of the invention. An examination procedure usually ends with either a "yes, patentable" or a "no, not patentable".

What do you particularly like about your job?
The work is very diverse and incredibly demanding. I know before anyone else what tomorrow's technology will look like. What is also great is that I can reconcile work and family life very well – I am a mother of two small children. And I can organise working hours flexibly and also do all the work from home.
Is there also something about your job that you don't like?
You sit alone in front of a computer a lot, conducting searches. It's up to personal preference whether you see this as a disadvantage. For me, at least, it's not a disadvantage.
"International Day of Women and Girls in Science"
In most countries, there is still a long way to go to achieve gender equality in what is referred to as the STEM subjects (in German: MINT subjects – mathematics, computer science, science and technology) at all levels of the education system. According to the UNESCO Institute for Statistics, globally, women account for less than 30 per cent of people working in research and development.
The "International Day of Women and Girls in Science" was adopted by the United Nations General Assembly on 22 December 2015. It is celebrated every year on 11 February and aims at highlighting the crucial role that girls and women play in science and technology. At the international level, UNESCO and UN Women organise the annual celebrations in cooperation with partners and civil society.

Picture 1: UNESCO, picture 2: personal collection
Last updated: 5 August 2022