Content
Protection Requirements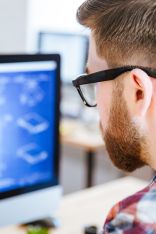 Within the scope of the registration procedure, the DPMA mainly examines the formal protection requirements. However, it is also examined whether the subject matter is a technical invention at all or whether the subject matter is excluded from utility model protection. The basic requirements for effective utility model protection – novelty, inventive step and industrial application – are not examined before registration.
Therefore, please make sure that these requirements for an effective IP right are actually met when filing your application by conducting thorough searches. Otherwise, you may not be able to assert any rights based on your utility model upon registration or your utility model might be challenged within the framework of cancellation proceedings.

Novelty: the subject matter of a utility model is considered to be new if it is not part of the state of the art. The state of the art comprises all publications or public prior uses of the invention. The grace period allows you to apply for utility model registration within six months from using yourself your invention publicly or from publishing it.
Inventive step: a utility model involves an inventive step if the invention is not obvious to a skilled person having regard to the state of the art.
Industrial application: pursuant to Section 3 of the Utility Model Act (Gebrauchsmustergesetz), an invention "shall be deemed to be susceptible of industrial application if it can be made or used in any kind of industry, including agriculture".
Picture: iStock.com/deandrobot
Last updated: 20 October 2020