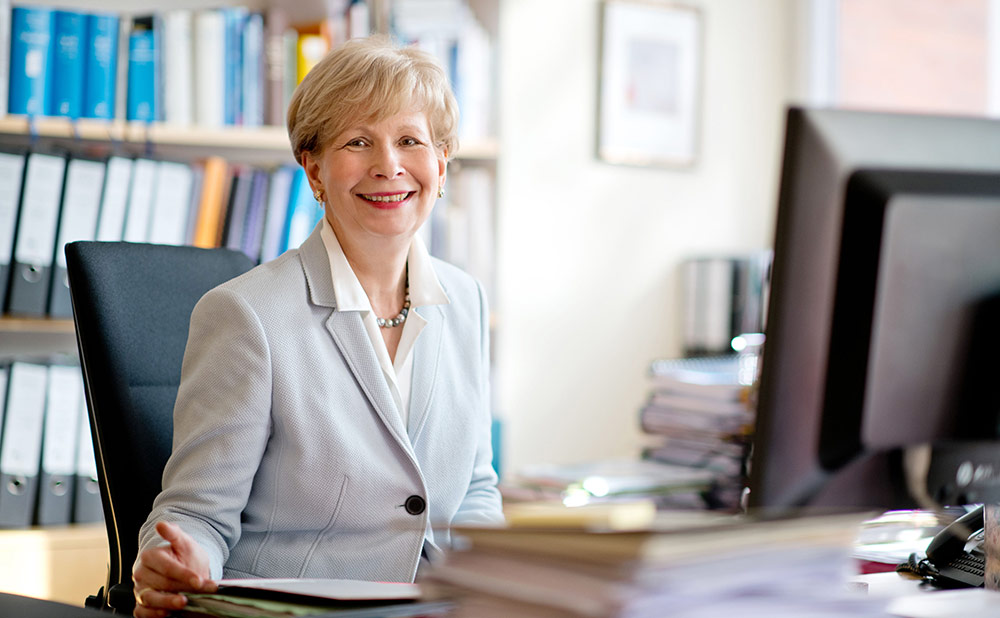 Ms Rudloff-Schäffer, working from home, health protection, customer communication: The coronavirus pandemic has put the ability to operate of many companies and organisations to the test. How has the German Patent and Trade Mark Office got through the crisis so far?
I would say: The stress test has been passed! The DPMA has proven to be a crisis-proof service provider during the coronavirus pandemic. Our productivity has not been reduced by the difficult situation. In the patent and trade mark areas, our performance figures even improved significantly compared to the previous year. We concluded more procedures than in 2019, conducted more searches and registered more trade marks than ever before. Accordingly, we can tell our customers with strong conviction: We were, are and remain fully operational at all times despite the pandemic. That we were so productive despite the difficult situation is due to our staff's really great commitment.
The lockdown in 2020 certainly had a serious impact on the DPMA too.
Of course, it had a serious impact. But our response was rapid and strong and we quickly established a pandemic management system. At the beginning of the pandemic, our Covid-19 response team held daily meetings to discuss and immediately decide all currently important issues; these meetings now take place twice a week. From the outset, considerations centred on two goals: to protect our staff's health in the best possible way, but also to ensure the protective measures would not interfere with the office's ability to operate and thus the interests of our customers. Furthermore, our aim was to provide applicants with the best possible support in this difficult situation — e.g. by extending deadlines where possible. And of course, the most important issue was: What must be done to quickly enable as many staff as possible to work from home?
"We were, are and will remain fully operational at all times despite the pandemic."
What is your attitude towards working from home – there were controversial discussions in politics and industry. How was the change of the work processes at the DPMA?
Surprisingly smooth! We now benefit from our highly digital operation. Unlike many other public service areas, we consistently process our IP procedures – currently, except design procedures — in electronic files from receipt to conclusion. Our customers can rely on electronically secure communication with us. Accordingly, a large number of our staff have had practice in and appreciated working from home for years. It is now paying off particularly that we started to consistently pursue digitisation as early as 20 years ago. Since the beginning of the pandemic, we have worked very hard to further extend the technical possibilities to work from home – with more mobile end devices and with client software solutions. At present, more than 75% of our staff are working largely from home.
Does that mean there are no more obstacles to working full-time from home?
This is something most of the staff do not want. In a survey on the working environment at the DPMA during and after the coronavirus pandemic, only few of our staff expressed the wish to work 100% from home. Most of them prefer a good mix of working in the office and working from home, especially because they like to sometimes meet their colleagues face to face. Exchanging creative ideas and views in a team or with experienced colleagues and meeting for lunch or a quick cup of coffee are things that are very important to most of the staff — in order to strengthen the sense of belonging and the solidarity with the DPMA as an employer, to discuss upcoming work topics, but also to talk about personal issues. Nonetheless, there will surely be no return to business as usual, but a "new normal".
What will the "new normal" look like at the DPMA?
It is too early to describe this in detail. For a start, we have to overcome the challenges the pandemic creates as fully as possible. However, some changes for the time after the pandemic are obvious: The desire for more flexible schemes as to when and where to work, i.e. less rigid rules for the division between working from home and working in the office, has become apparent. In the past year, we and many companies have learnt: Working from home works well! Many major companies have announced that they are planning to continue applying their current rules in the future. We, too, are thinking about the lessons and conclusions we can draw. We created a project group with staff from all directorates general. Its name is DPMAarbeitswelt (DPMA working world) and it examines the effects of the working conditions, which changed due to the coronavirus pandemic, and, given this impact, how we want to design our future working environment. The suggestions of the group will be the basis for the future plans.
"A project group is looking at how we want to design our future working environment."
Which topics are being debated in this context?
We want to develop more flexible working schemes, giving our staff more say when and where they work – from home or in the office. It goes without saying that we must still comply with health and safety requirements and perform the work expected from us. If we grant more flexibility, we need modern forms of cooperation: better digital possibilities to exchange information and views, but possibly also new ways to do so face to face when we are in the office, as it is very important to all of us that cooperativeness does not suffer from more flexible working schemes. In addition, the question arises as to how to arrange and use our office spaces. In this context, we have to check the requirements and framework conditions in public service. And despite the transition to more flexibility, the lines between working time and leisure time must not become blurred beyond recognition.
"We are an attractive employer. An application for a post at the DPMA is worthwhile."
Are these new schemes also an opportunity in the competition for the best talent in the labour market?
Yes, they are. Last year, investigations found again that we were a very attractive employer – especially with regard to the reconciliation of work and family (see page 37), job security and the modern technical equipment. These are important arguments we successfully put forward to recruit staff for our office. In 2021, we want to attract again more than 100 qualified experts. We are looking for roughly 40 IT experts and even more experts for our patent examination divisions. Our great recruitment campaign in spring has just encouraged several hundreds of engineers and scientists to apply for a patent examination position at the DPMA. And in the years to come, we will start for the first time to establish patent divisions in our Jena sub-office. To apply for a job at the DPMA pays off. You become acquainted not only with the technology of the future. We also want to provide the best possible conditions in the working environment of tomorrow.