Inhalt
DPMAnutzerforum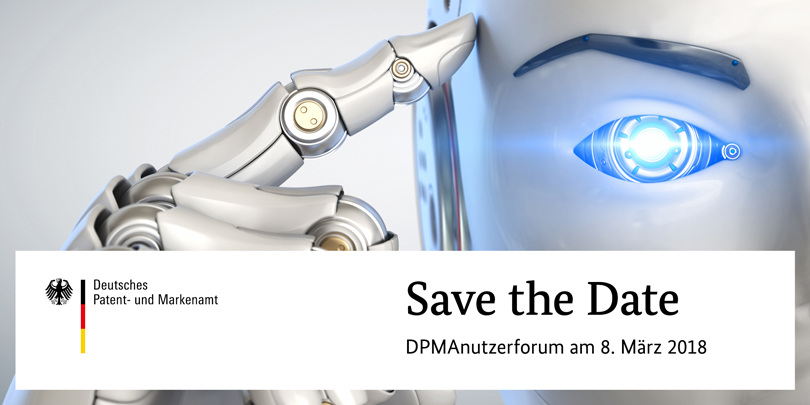 Annual IP conference of the German Patent and Trade Mark Office
The DPMAnutzerforum is the annual IP conference of the German Patent and Trade Mark Office (DPMA). Representatives from industry, the IP associations and the legal profession exchange views with the DPMA staff about questions and developments regarding IP procedures at the DPMA.

Next meeting: DPMAnutzerforum on 8 March 2018

The DPMAnutzerforum 2018 is scheduled for Thursday, 8 March from 1:00 p.m. to 5:00 p.m. and will be held in our conference hall at the DPMA on Zweibrückenstraße 12, Munich. Once again this year, the conference will be wholly dedicated to current topics and your requests. The senior management of the DPMA and the heads of the directorates general will provide information to you on the new IT services and the annual business figures for 2017, among other things. Our presentations will focus on filing trends, measures and strategies to cope with a further increase in customer demand for our services.
We invite you to use this opportunity for discussion, suggestions and an exchange of views and information about IP rights in a professional atmosphere at our DPMAnutzerforum. The language of the event will be German.

Would you like to attend?
Does your work involve dealing with intellectual property issues and would you like to attend? Then, please use the online registration form (in German) available to you on the DPMA website at www.dpma.de/nutzerforum2018. For the workshops in the morning (starting at 10:30 a.m.), which will put the focus on our new DPMAdirektPro e-service and WIPO's current Global Innovation Index 2017, a separate registration form (in German) is required, available at www.dpma.de/workshop2018.
Do you wish to attend other events of the German Patent and Trade Mark Office? Then send us an e-mail to presse@dpma.de indicating your name, business address and telephone number or call us on + 49 89/2195-3222. We will be pleased to add you to our mailing list and send you information about upcoming events. Your data will be used only to send you invitations to our events.

Programmes and documents for download
Here you can view the programmes and documents (in German) of the last DPMAnutzerforum conferences.

Picture: iStock.com/iLexx
Last updated: 23/02/18