Inhalt
Luther - 500 years after
The patented little reformer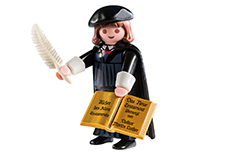 500 years of Luther's theses: The patented little reformer
The hammer blow: On 31.10.1517 Martin Luther is said to have nailed 95 theses on the need for reform of the church to the doors of the Wittenberg castle church. 500 years later, this prelude to the Reformation, which changed the world, is celebrated with a national holiday and an anniversary year with many events.
Luther's blows of the hammer had far-reaching consequences - not only on church and religion, but also on politics, culture and society. The reformer became a key figure in German history, not least because of his Bible translation, as it formed the basis for a unified German written language and thus created identity.
Luther, the head of the Reformation, received a completely new face on the occasion of the anniversary, namely that of a popular toy figure. The Nuremberg Tourist Office and the Protestant Church ordered a Luther figure from a well-known toy manufacturer as an advertising ambassador for the 500th anniversary of the Reformation.
Luther is not the first historical figure to be produced by the toy manufacturer as a special series, composed of parts of existing product lines; Dürer and Goethe already exist. But no figure sold himself as often as the unyielding theologian, although the figure is not sold regularly in the toy trade. The first edition of the 7.5 centimetre tall figure with its black gown, bible and quill was quickly sold out and has been reordered again and again ever since.
In the meantime, Luther has become the most successful figure of the manufacturer: more than one million units have been produced.
The movable plastic figures are based on a patent applied for at the DPMA in 1972 (

patent specification no. 2205525). Its inventor is Hans Beck, at that time an employee of the plastics company Geobra Brandstätter in Zirndorf, Franconia. The toy was originally to be called "Klicky"; it was not until 1975 that the manufacturer registered the now world-famous brand name at the DPMA. More than two billion of these figures are said to have been produced in the meantime.
---
Pictture: Playmobil - geobra Brandstätter Stiftung & Co. KG, Zirndorf
Last updated: 22/02/19