Inhalt
EPC is 40 years old
1977: European Patent Convention enters into force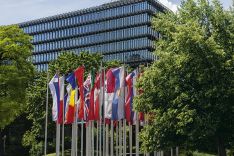 European Patent Office in Munich
A milestone in the history of IP protection in Europe: 40 years ago, on 7 October 1977, the European Patent Convention (EPC) came into force in Germany and six other countries.
Four years earlier, 16 European countries had signed the Patent Convention at a conference in Munich after almost twenty years of preparation. The German Patent Office and in particular its then President, Dr. Kurt Haertel, played a major role in the preparatory work.
The Convention established the European Patent Organisation (EPO) and the European Patent Office, which established its headquarters in Munich in the immediate vicinity of the DPMA. The EPO now has 38 signatory states, including non-EU members.
Since the entry into force of the EPC, applicants have the possibility to file a patent application in German, English or French with the EPO for protection in several contracting states to be individually designated. However, a patent granted by the EPO then does not apply uniformly to the designated contracting states, but splits into individual national patents after grant, which must be individually validated at the national offices.

Picture: EPO
Last updated: 22/02/19