Inhalt
Deutscher Zukunftspreis 2017
Who will be the winner of Deutscher Zukunftspreis?
Live broadcast
Deutscher Zukunftspreis Award ceremoy on Wednesday, 29th November, live:

On November 29th, the jury will meet for the decisive meeting: The winners of the Deutscher Zukunftspreis 2017, the German President's Prize for Technology and Innovation, will be chosen. At the award ceremony at the Kraftwerk Berlin, Federal President Frank-Walter Steinmeier honours the best research team of the year. 250,000 euros in prize money await the first place winner. The Zukunftspreis honours developments that are particularly innovative, promise economic success and could create new jobs. In the final round, a robot, a system for pin-sharp clinical images and highly innovative bionic hand prostheses compete against each other.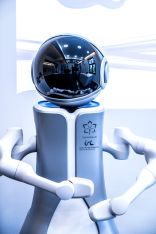 Roboter "Panda"
Robot "Panda" is a development of Professor Dr.-Ing. Sami Haddadin and his team. Haddadin is a robotics researcher at Leibniz Universität Hannover. Simon Haddadin and Sven Parusel developed and built the robot in their Munich-based Franka Emika GmbH. "Panda" is extremely sensitive for a robot, can screw, drill and sort objects. He is designed to work with the human being. In future scenarios, he is able to help or even care for older people at some point. Another special feature: If you want to operate Panda, you don't have to be able to program. It can be fed with apps and can be continuously developed by laymen.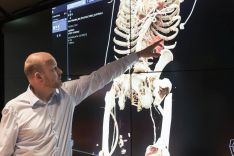 Dr. Klaus Dieter Engel and his 3D imaging technique
Dr. Klaus Dieter Engel competes with Haddadin's team. With syngo.via Cinematic Rendering, he has developed a new method for 3D imaging at Siemens Healthineers - Siemens Healthcare GmbH in Erlangen. The images show organs, vessels and bones photorealistically and extremely vividly. Doctors can see and locate details more clearly. For example, they are able to detect fractures and internal injuries more easily and can place vascular supports, so-called stents, more accurately. In contrast to previous illustrations, the pictures are immediately understandable even for laymen. By the way, Engel was inspired by the film "Lord of the Rings". The legendary character "Gollum" was integrated into the film using a very similar process. The team also includes Prof. Dr. med. Franz A. Fellner and Dr. -Ing. Robert Schneider.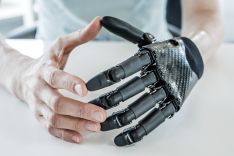 Bionic Hand prosthesis by Dr. Stefan Schulz and his team
The third remaining applicant is Dr.-Ing. Stefan Schulz and his team. In his company Vincent Systems in Karlsruhe he develops highly innovative bionic hand and finger prostheses. Bionic prostheses can replace a lost limb and further facilitate complex motion sequences and functions. Schulz's bionic hand prosthesis is considered to be the smallest and lightest in the world and also offers children more quality of life than other products. It is also much more robust than comparable products on the market. His team includes Adrian Andres and Matthias Baßler, who work with him at Vincent Systems.
All three applicants hold patents at the DPMA or have filed patent applications. The winner will be determined on Wednesday evening. The ZDF will broadcast the recording of the award ceremony on television from 10.15 p. m. on Wednesday, 29 November. If you want to watch it live, you can follow the live stream on the Internet - either on the ZDF website or at www.deutscher-zukunftspreis.de
---
Picture: Ansgar Prudenz / Deutscher Zukunftspreis, Picture: Ansgar Prudenz / Deutscher Zukunftspreis, Picture: Ansgar Prudenz / Deutscher Zukunftspreis
Last updated: 16/05/18