Inhalt
Christmas and trademark protection
Who believes in Santa Claus and what does the "Christkind" have to do with Martin Luther?
Excerpt from DPMAregister; trade mark application: "Ich glaube an den Weihnachtsmann"
Who still believes in Santa Claus? Perhaps the applicants of the mark 3020100702745:"I believe in Santa Claus". In any case, the trademark is not registered. And slogans can only be protected as a trademark if they are distinctive: they must be able to identify the origin of a product or service. They are not, for example, when they simply describe the products in question. Consumers will then see the slogan as a common sequence of words and not as a distinctive feature.
Santa Claus existed before Coca-Cola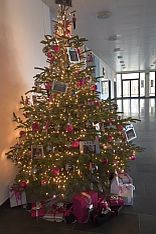 It´s Christmas at the trade mark section, too...
The rumor that the well-known American soft drink manufacturer invented Santa Claus is persistent. But the Santa tradition is much older and dates back to the 17th century. And Santa was originally a European, too. Dutch emigrants brought their "Sinterklaas" tradition with them to Nieuw Amsterdam, today's New York. Sinterklaas became "Santa Claus" in the course of time. In Germany, the man with a red coat and the impressive white beard was particularly made famous by the song "Morgen kommt der Weihnachtsmann" ("Tomorrow comes Santa Claus"), which Hoffmann von Fallersleben wrote in 1835.
The "Village of Santa Claus" is not eligible for protection in Germany
The Federal Patent Court ruled that the "Village of Santa Claus" (BPatG Munich, decision of 19 January 2017 - 30 W (pat) 505/16) could not be protected as a trademark. Or to put it in more complicated terms:"The order of words contains a descriptive conceptual content in the foreground.... In the absence of an indication of business origin, the mark applied for is therefore devoid of any distinctive character." This is because:"The application symbol... is thus readily integrated into the usual series of designations for Christmas markets, so that the trade will not regard it as an indication of business origin in relation to the services claimed". (BPatG Munich, Decision of 19 January 2017 - 30 W (patent) 505/16, paragraph 32).
And what about the Christkind?
The Christkind is also popular and especially in the south of Germany it brings the Christmas presents. Surprisingly, it goes back to the Protestant reformer Martin Luther. He wanted abolish the "childish" Nicolaus cult. It didn't quite work out - but at least Luther made the Christkind popular among the Catholics. And the Christkind now brings a lot of presents and increases the commerce, which Luther probably wouldn't have liked either....
The "Christkindl" is actually registered as a word mark (for "alcoholic beverages", among other things applied for), since the judges at the (Bundespatentgericht) Federal Patent Court did not see any reasons for refusal of protection for the Bavarian term with regard to the goods claimed at the time of the application (decision of 06.12.2000 - 26 W (pat) 195/99).
The quite original brand name "Christkind findet Stadt" (302011069497) is also registered.
Remarkably often "Christkindles-Tea","Christkindles-Sweets" and "Christkindles-Glühwein" are sold on the "Christkindles-Market". The Federal Patent Court has refused to register trademarks for these designations: they are not protectable as descriptive information (see, for example, BPatG Munich, Decision of 23 April 2007 - 26 W (pat) 69/04).

Yes, there is a Santa Claus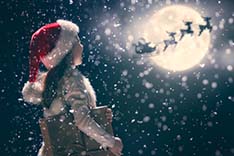 We wish a merry and magic Christmas to all our readers!
The "New York Sun" already answered the question of Santa Claus 120 years ago. Eight-year-old Virginia O' Hanlon wrote the following reader's letter in 1897:
"Dear editor, I am 8 years old. Some of my little friends say there is no Santa Claus. Papa says, "If you see it in The Sun, it's so." Please tell me the truth, is there a Santa Claus?"
The answer of editor-in-chief Francis P. Church was distinct:
"Yes, Virginia, there is a Santa Claus. He exists as certainly as love and generosity and devotion exist and you know that they abound and give to your life its highest beauty and joy. Alas! how dreary would be the world if there were no Santa Claus! It would be as dreary as if there were no Virginias. There would be no childlike faith then, no poetry, no romance to make tolerable this existence. We should have no enjoyment, except in sense and sight. The external light with which childhood fills the world would be extinguished.
Not believe in Santa Claus! You might as well not believe in fairies. Is it all real? Ah, Virginia, in all this world there is nothing else real and abiding. No Santa Claus! Thank God! He lives and lives forever. A thousand years from now, Virginia, nay 10 times 10,000 years from now, he will continue to make glad the heart of childhood."

---
Picture 1: DPMA, Picture 2: DPMA, Picture 3: iStock.com/Choreograph
Last updated: 16/05/18