Inhalt
100th birthday of Ellis Kaut

Even as a child she wanted to become world-famous
On 17 November 1920, little Elisabeth Kaut, a planned child, came into the world in Stuttgart. Her father, who was born in Munich, was an authorised officer at a bank, her mother a farmer's daughter from the Württemberg region. The family moved to Munich when Ellis was two years old. The artistic streak of the girl was apparent even at an early age. The four-year-old, nick-named "Lieserl", loved to sing songs with an infinite number of verses, at the top of her lungs and especially in the stairwell, to all friends, relatives and neighbours, and was almost unstoppable. One day, when the caretaker asked her if she wanted to become a singer, the girl replied: "No, I don't want to become something like that." And when the caretaker asked her what she wanted to be, Ellis replied: "I want to become world-famous."
A versatile artist
Therefore, it is not surprising that – without her parents' knowledge – Ellis Kaut paid for drama classes out of her own small monthly salary as a clerical trainee at the City of Munich. She was offered an engagement in Wiesbaden, but she felt that this was too far away from her future husband. In 1939, she married the journalist and author Kurt Preis, who had also encouraged her to start writing. Finally, she studied sculpture at the Academy of Fine Arts in Munich during the second world war. She managed to keep her family afloat by making a living from sculpting, selling ceramic figurines and making portraits of famous Munich people.

From radio announcer at Bayrischer Rundfunk to "mother of Pumuckl"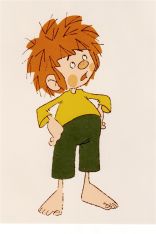 Trade mark DE 1028393
It was only later that she began to write novellas, stories and radio plays and worked as an announcer for the Bavarian radio station "Bayerischer Rundfunk" (BR). She wrote her first and very successful radio play series for children about a tomcat named Musch, "Geschichten vom Kater Musch". When the voice actors of the main characters left Munich for professional reasons, the series was discontinued after more than 100 episodes.
A new series was to replace "Kater Musch" and Ellis Kaut was assigned the job. At a meeting of the editorial staff, she was looking for the pencil that she had just been holding in her hand – it had suddenly disappeared. She laughed: "What if it wasn't I who had misplaced the pencil, but a goblin?" The editor was enthusiastic about the idea, creating the basis for a new series.
It was during a winter stroll with her husband that a name for the goblin popped up: Ellis Kaut had fun pulling down the snow-covered branches in such a way that the snow landed on her husband's head. He put up with this, laughed and called her "a right pumuckl". A name that came to his mind on the spur of the moment.

"Pumuckl" as radio play, book and film
Did you know that...
...parts of the title sequence of "Pumuckl" were shot from the roof terrace of the DPMA office building on Zweibrückenstraße in Munich?
By the way, Meister Eder's carpenter's workshop was located in the immediate vicinity of the DPMA in a backyard in the Lehel district of Munich.

In 1961, "Pumuckl" made its radio premiere in the BR – a total of 90 episodes were broadcast. Hans Clarin was the typical voice behind "Pumuckl". From 1969, the radio plays were produced on record and cassette.
But how was it possible to image what the little goblin would look like? Ellis Kaut organised a painting competition on what "Pumuckl" should look like. The winner was 21-year-old Barbara von Johnson. She created the unique figure with the protruding ears, the fat belly and the oversized hands and feet. From 1965, she illustrated the "Pumuckl" books.

In 1982 the feature film "Meister Eder and his Pumuckl" with Gustl Bayrhammer in the role of Meister Eder was released; shortly thereafter the television series followed.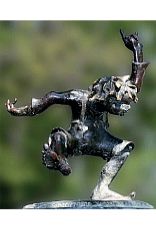 Pumuckl fountain in Luitpold park in Munich
Ellis Kaut's son-in-law, Brian Bagnall, created the cartoon character in bright colours.
The trade mark rights to "Pumuckl" were obtained by Ursula Bagnall, the daughter of Ellis Kaut, (including word mark DE 1012772, Pumuckl, applied for on 31 March 1979 for the classes of goods 38, 9, 35, 41 and 42).
From then on, Brian Bagnall illustrated the "Pumuckl" not only on screen, but also in the children's books. Barbara von Johnson felt that her copyright had been violated and went to court. In 2005, at the end of the lawsuit, she received a compensation, subsequently. Johnson is also the proprietor of the "Pumuckl" figurative mark DE 1028393.
In total, "Pumuckl" was sold about 10 million times on record, cassette and video. "Pumuckl" musicals, including that at the Gärtnerplatz theatre, and further TV series as well as a feature film were produced. There is even a "Pumuckl" fountain in
Luitpold park.
"Pumuckl" lives on
Eventually things quietened down around Ellis Kaut and her "Pumuckl". In September 2015, shortly before her 95th birthday, Ellis Kaut died. She will always be remembered for her works and stories, but especially for her little, cheeky goblin.
Picture 1: www.ellis-kaut.de, picture 2: DPMA from DPMAregister, picture 3: Wikimedia Commons, Oliver Raupach
Last updated: 3 May 2021