Inhalt
90 years Mickey Mouse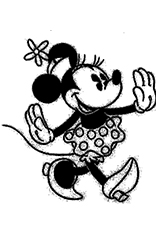 Minnie Mouse Trademark (No. 003332905)
The world's best-known comic figure, Mickey Mouse, made her first appearance 90 years ago. Although the premiere of the film "Steamboat Willie" on November 18, 1928 is often assumed to be the date of birth of the mouse, it actually had its screen debut on May 15 of the same year in the cartoon "Plane Crazy".
In it, the mouse imitates the pilot Charles Lindbergh, who was the first to cross the Atlantic. Already at Mickey's side was girlfriend Minnie Mouse. However, this wonderfully chaotic little film was only shown once as a silent film during a test screening and was initially not distributed. Only after the success of "Steamboat Willie" did "Plane Crazy" return to the cinemas a year later with a soundtrack, this time with success.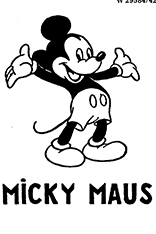 The German Version of the mouse (No. 1008802)
Success - that is the star under which the anthropomorphic mouse was born. Today it is the trademark of one of the world's largest entertainment companies with annual sales of around 47 billion euros. But no one could have foreseen this success story in 1928.
The mouse once was a rabbit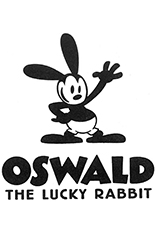 Longer ears, shorter nose: Mickey´s predecessor Oswald (No. 30621169)
The mouse began her career very modestly, as a substitute, so to speak. Until then, Walt Disney's first "star" had been a character called "Oswald the lucky rabbit", a bunny Micky looked very much like. Disney lost the rights to this character to its partner Universal Pictures after a dispute over production costs. Disney then developed the first Mickey Mouse cartoons together with his employee Ub Iwerks, while Universal released further Oswald films.
In the beginning there was the mouse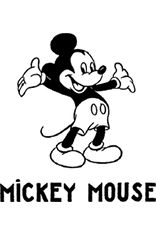 The original US mouse (No. 135377)
Originally the mouse was supposed to be called "Mortimer", but Disney's wife allegedly found this name too conservative; she is said to have suggested "Mickey". Walt Disney not only gave Mickey his voice in the first talkies himself, he also invested all of his money (which wasn´t that much, back then) in the career of his mouse.
The enormous success, which quickly set in, proved him right. He not only proved a lucky hand artistically, but also showed his entrepreneurial qualities by securing his creations with industrial property rights and then being one of the first to merchandise on a large scale. The first licensed product to adorn the mouse appeared as early as 1930. And his company continues to pursue this profitable strategy to this day with the utmost perfection.
Milking the mouse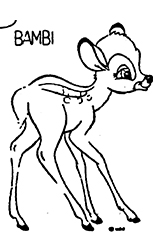 A rather famous animal (Reg.-Nr. 176503)
If you search the DPMA database DPMAregister for trademarks of the applicant "Disney", the error message "Hit list too long" appears! In fact, 1130 Disney trademarks are currently registered at the DPMA. After Mickey Mouse, Disney developed many more popular cartoon characters, all of which he secured with all industrial property rights. Of course, the international markets were also kept in mind and the respective national names of the figures such as "Micky Maus" or, for example, "Dippy" or "Bucefalo" were also secured for Goofy as a brand.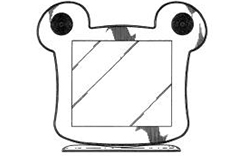 The screens have ears (No. 000287578_0003_1)
In addition, Disney secured its most popular characters as a word-image trademark, such as Bambi or the silhouette of Mary Poppins. And the mouse over and over again: Disney registered designs for televisions and computer screens with mouse ears (000287578_0003_1) or - particularly ingenious - for a computer mouse in Mickey style.
Cartoon pioneer with a well thought-out patent policy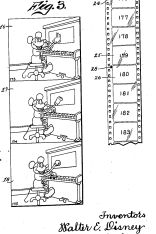 US1941341A
Disney was not only a pioneer of merchandising, his company also made decisive progress in film technology, especially in its early years. Numerous patent applications (e.g."

Method for synchronizing photoplays, 1931" or "

Method of creating cartoon effects") in the 1930s testify to how the company worked on increasingly successful animated films and advanced the "

Art of Animation". Technical perfection is still a trademark of the multimedia group's films, which continues to apply for new patents ("

Physical face cloning (1,55 MB)" 2015). Disney also secured its market position by acquiring creative competitors such as Pixar and their patents (e.g. "

Statistical hair scattering model (1,57 MB)", 2018) or "Star Wars" makers Lucasfilms.

The mouse becomes dull, the duck becomes human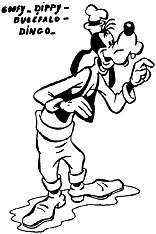 Mickey Mouse quickly changed not only visually (she left her predecessor Oswald clearly behind) but also in character after the first films. While in the early films the mouse was still a cheeky, daredevil guy with sometimes boorish behaviour, she now became tamer, smoother and almost boring. The "wild" characteristics were adopted by her in-house competitor Donald Duck, whose popularity soon took over despite - or precisely because of - his coarseness of the mouse.
Although Micky Mouse tried to make some "image changes" over time, she often seemed colourless and boring compared to the very "human" Donald in the countless comic books that have appeared since the 1940s and that have become her main medium. Nevertheless, after 90 years, her fame is almost universal.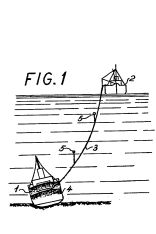 Methode of raising sunken vessels (GB1070600A)
Although Micky Mouse tried to make some "image changes" over time, she often seemed colourless and boring compared to the very "human" Donald in the countless comic books that have appeared since the 1940s and that have become her main medium. Nevertheless, after 90 years, her fame is almost universal.
How Donald tilted a patent, or: Patent examiners should read Mickey Mouse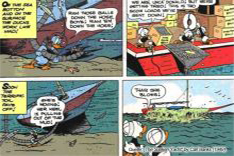 Rasising a sunken ship by the help of plastic balls: Carl Barks' brilliant idea in his 1949 comic strip
In 1964, a Danish inventor applied for a patent in his home country for a method of lifting sunken ships, in which foam balls were pumped into the wrecks to give them a boost. The patent has also been confirmed by the DPMA (

DE1247893B) and in Great Britain(

GB1070600A).
But the Netherlands Patent Office refused to grant it: In a comic strip by the ingenious author Carl Barks, published as early as 1949, Donald Duck had used a very similar procedure to lift a sunken yacht with the aid of table tennis balls. In view of the large circulation of the comics, the Dutch colleagues no longer saw the novelty of the invention.

Pictures: DPMA, Walt Disney Corp.
Last updated: 3 May 2021