Inhalt
20 years DPMA in Jena
The Jena Sub-Office celebrates its birthday

Twenty years in Jena: The Jena Sub-Office of the German Patent and Trade Mark Office (DPMA) was founded on 1 September 1998. The number of jobs created in this way has now risen to 230. They are mainly staffed by colleagues from the region and the neighbouring federal states.
In the field of intellectual property rights, the Jena Office has long been a respected institution throughout Germany and a reliable point of contact for matters relating to design and trade mark rights. In addition to the design department of the DPMA, it also houses an examining trade mark department for about 40 per cent of national applications, the trade mark administration, the collection office, a Central Customer Service team and various other departments of the Office.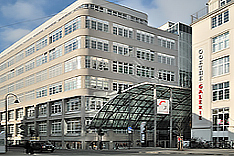 The DPMA Sub-Office building at Goethestraße 1 in Jena
In 1998, Thuringia received the sub-office of an "Obere Bundesbehörde" (upper federal authority), the DPMA a third location after Munich and Berlin. To celebrate this anniversary, the DPMA and numerous partners are organising a public exhibition on industrial property rights and their significance in practice from 8 to 20 October 2018 at the Goethe Galerie shopping centre in the centre of Jena, Goethestraße. Its title is: "Innovation yesterday and today - 20 years DPMA Jena". The official ceremony with invited guests, to which the Federal Minister of Justice, Dr. Katarina Barley, is expected to address, will take place on 15 October.
Picture: DPMA
Last updated: 16/04/19