Inhalt
World IP Day 2018

Powering change: Women in innovation and creativity
Man is mainly unique because he can re-invent his world. From the wheel to spectacles and printing right up to the telephone, washing machine, parachute, coffee filter, highly refractive lenses of spectacles and the smartphone: So far, the Gyro Gearlooses have found surprising and unique solutions for each (everyday) problem. But wait - are inventions really only attributable to men or isn't there a fair chance that a Gyra Gearloose has created an invention? And hasn't the time come to better tap women's creative and innovative potential?
Why to date, women apply less often for IP rights than men
It is beyond debate that so far, there have been fewer female than male inventors. According to the World Intellectual Property Organization (WIPO), the foundation for this is already laid in early childhood. In most countries, noticeably fewer girls than boys pursue scientific or technical studies (German: MINT; English: STEM). As a result, relatively few women work in the domains that give rise to most technical innovations. Moreover, gender stereotypes are very prevalent and girls as well as young women lack role models inspiring them to unleash their full potential.
The German Patent and Trade Mark Office is driving change in this context. At the beginning of the year, the office has joined the national initiative for women in STEM professions called "Komm mach MINT." (Come join STEM). Participating institutions and companies strive to enthuse girls for technical and scientific careers. On the yearly Girls'Day, the DPMA offers guided tours for female pupils. "If we want to fully exploit the innovative potential of our country, we have to motivate more girls and women for engineering and science", states Cornelia Rudloff-Schäffer, President of the DPMA. "This would not only prove highly advantageous to women, but to our entire society."
Economic and social structures also keep on limiting career chances for women. Talented women are successful as students and at the beginning of their career. Later on, however, they forego promotions for the benefit of their family. The development and application costs for intellectual property are an additional factor. Women tend to play it safe and prioritise the stable family income. This makes them noticeably more risk-averse than men.
It does not take any oil or machine
On the one hand, women are often creative in areas where innovations are not patentable per se, for example when it comes to handicraft work and creative ideas, says Dr Renate Weisse, patent attorney located in Berlin. On the other hand, women in particular tend to lack self-confidence and deem administrative barriers too high. They are often unaware of the fact that many inventions can indeed be patentable. "It does not take any oil or machine", says Ms Weisse, who studied physics.
Jugend forscht creates female inventors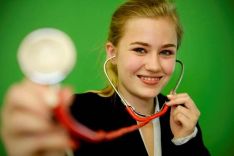 Jugend-forscht award winner
Rieke-Marie Hackbarth
Jugend forscht, the youth science competition, taking place for the 52nd time this year proves quite well that girls and young women do have the potential to become successful inventors. In 2018, 4,550 out of 12,000 participants of Jugend forscht were female, so after all girls accounted for 38%. And the findings of the female participants are well presentable. For example, 17-year-old Rieke-Marie Hackbarth, currently doing her A levels, took part in the competition in 2015 and won a special prize for her self-disinfectant stethoscope. Rieke got the idea of participating in the Jugend forscht competition from her course Forschen und Erfinden (research and invention) offered at her school. (She was the only female participant in this course, though.) She remembered her paediatrician stating that stethoscopes were a real source of germs. So she invented an electronic cleaning technology in her school lab: A fine disinfectant mist is sprayed onto the stethoscope's membrane. The pupil has filed for a utility model (

DE 20 2015 100 725 U1) and a patent (

DE 10 2015 102 168 A1) for her invention. Meanwhile, a company has bought the patent and wants to make it ready for market. She would have never thought of filing for a patent for her invention. "I wasn't under the impression that it was something that special...," she explains. Before her invention was made public, a Jugend forscht juror had finally made her aware of this possibility. If she had presented the invention at the award ceremony without applying for a patent at the DPMA first, it would have become "state of the art". Thus, her invention would no longer have been new.
After taking her A levels, Rieke wants to study medicine, but she can also imagine very well continuing to work in the medical technology sector or to do research and invent in other fields. She enjoys working on an idea and developing her prototypes further. We hope that she continues enjoying her work, wish her good luck with her future inventions und look forward to the numerous ideas and innovations (those of women in particular) on World Intellectual Property Day. And please remember to first file your IP and only share it afterwards.
Picture 2: Jugend forscht
Last updated: 26/03/19