Content
UN World Water Day 2020

Inventions in the fight against water shortage

According to the

United Nations, climate change is inseparably linked to the issue of drinking water supply. It affects the water cycle, promotes extreme weather, impairs water quality and makes it difficult to estimate the availability of fresh water supplies.
Climate policy must take an integrated approach to dealing with climate change and water management at both national and regional levels, according to the UN: "Business as usual is no longer an option". Among other things, strategies must be developed to support lower-income population groups that are heavily affected by the impacts of climate change.

Drinking water is the most precious resource on earth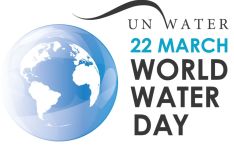 According to the United Nations World Water Report, almost half of humanity is threatened by water shortages. More than 2 billion people live in countries with high "water stress" and almost 4 billion people live in areas where there is a serious threat of water shortage for at least one month per year. By 2050, this figure is predicted to be as high as 5.7 billion. Every year, millions of people, especially children, die from lack of water or contaminated water.
According to the UN, global water consumption has increased by about 1% per year since the 1980s, due to a combination of population growth, socio-economic development and changing consumption patterns. Global water demand is expected to continue to grow at a similar rate until 2050, which would mean a 20-30% increase over current levels of water use.

Inventions for a better water supply
New inventions play an important role in combating water shortages. The large number of applications for utility models and patents relating to water management received by the DPMA in recent years reflects the different approaches to combating the shortage of drinking water in arid, i.e. very dry, areas.
Here are a few examples:
For example, new processes for desalination of sea water are constantly being developed, which also take into account environmentally friendly disposal and processing of the components that are as insensitive to disturbances as possible, e.g. DE102015109119B4, DE102014015980A1, DE112017003735T5 or also DE202017002007U1 desalination bottle).
Quick tests, with which the water quality can be determined in a short time, show which water can be drunk safely, see e.g. DE202016104539U1 oder EP03171172B1 (1,56 MB).
There are also some new, innovative approaches to the production of drinking water, e.g.

DE102016012612A1(water production from ambient air),

DE102018207875A1(drinking water production in power plants, also

WO002019219472A1) or

DE202019100179U1 (water production in vehicles).
The

United Nations World Water Report has been produced annually for UN Water by UNESCO and its

World Water Assessment Programme (WWAP) since 1993. For this purpose, 31 UN organisations work together with UNESCO. Since 2014 it has been published annually with a thematic focus.
Pics: UN
Last updated: 3 February 2023