Inhalt
World Water Day 2018

Rice terrace in Timor
Drinking water for everyone!
Drinking water is the most precious resource on earth. Almost half of humanity is threatened by water shortages. This shocking figure is named in the United Nations World Water Report 2018. According to the report, 3.6 billion people live in areas threatened by water shortages for at least a month a year. According to forecasts, the figure will reach 5.7 billion by 2050. Every year millions of people, especially children, die of lack of water or polluted water. High time to do something! The annual World Water Day on 22 March reminds us that drinking water is a human right, but unfortunately not a matter of course.
"Nature-based solutions" (the title of the 2018 World Water Report) are a promising, underused approach: reforestation, use of wetlands or targeted groundwater recharge can play an important role in improving water supply and quality. In times of climate change, population growth and rising consumption, natural and nature-like processes must be used much more than before in order to achieve sustainable water management.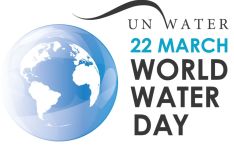 Such nature-based solutions include the preservation and renaturation of ecosystems, overgrown walls and roof gardens or water retention basins for groundwater recharge, as well as the protection of water catchment areas for an efficient water supply to cities.
According to the World Water Report, the protection of wetlands is of particular importance. For example, they filter toxins and thus improve water quality. Wetlands can also slow down flooding by storing rainwater, acting as natural barriers and reducing soil erosion. Since 1900, 64 to 71 percent of the world's natural wetlands have been lost to human activity. Partly with devastating consequences: The draining of wetlands in the Mississippi Delta, for example, increased the destructive power of Hurricane Katrina in 2005. Worldwide, 1.2 billion people are currently threatened by flooding.

Inventions for a better water supply
New techniques also play an important role in combating water shortages. The large number of utility model and patent applications received by the DPMA in recent years reflects the various approaches to combating the shortage of drinking water in arid, i.e. very dry, areas.
A few examples:
The United Nations World Water Report is prepared annually for UN-Water by UNESCO and its World Water Assessment Programme (WWAP). To this end, 31 UN organisations are working together with UNESCO. Since 2014, it has been published annually with a focus on different topics.
UN Photo Martine Perret
Last updated: 13 November 2019