Inhalt
World Book and Copyright Day

Ready - steady - read!
World Book and Copyright Day celebrates and promotes the joy of books and reading. Every year on April 23rd, the magical power of the book is celebrated worldwide, linking past and future and building a bridge between generations and cultures.
Why April 23rd? Well, with Shakespeare and Cervantes two of the greatest writers in world literature died on this date, as did Inca Garcilaso de la Veg, the chronicler of the Incas and the Spanish conquest of Peru. Born on this day was the Icelandic Nobel Prize winner Halldór Laxness. So, a very appropriate date indeed.

A Catalan custom becomes a worldwide Event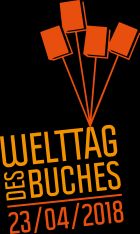 A Catalan custom becomes a worldwide event
In addition, the Catalan author Josep Pla died on 23 April, which is significant because the idea of World Book Day goes back to an old tradition in Catalonia: every year on St. Jordi's Day, a large public festival around the book is held in the streets.
This regional tradition has become an international event since UNESCO declared 23 April "World Book Day", the global day for reading, books and authors' rights, in 1995. Since 1996, Germany has also participated in the worldwide celebration of reading, the cultural technology number one and key to any education.
In addition, every year UNESCO and international organisations of publishers, booksellers and libraries nominate a city as the world capital of books. In 2018 it will be Athens, the mother city of theatre and philosophy.

The future of reading

In the age of digitization, reading is changing. The IP applications received by the DPMA in recent years on this subject show where the journey is heading:
There have long been digital books that are constantly being further developed (e.g.

DE000059814082C5.pdf). Digital books are invented in which the physical characteristics of a book such as cover or content are retained, but the data is stored in encrypted form and loaded from the cloud and can be shared and edited (like in

DE112015002507T5.pdf).
As reading will increasingly shift to the Internet in the future, large US companies such as the search engine (quasi) monopolist are developing tools in line with their business model, such as "

automatic purchasing of digital content": For example, if someone reads the trial version of an e-book on their tablet, a "buy point" is set from which the client "treats the user's action as the user's intention to buy the full version of the content" and makes the purchase automatically.
The same company revealed in the application "Linking rendered advertisements with digital content" (

DE202010018557U1.pdf (0,99 MB)) how it can provide readers with 'suitable' advertising (and thus earn a lot of money).

Is the book an obsolescent model?
But the classic paper book is also still being developed further, somewhat as a "

book-in-book" or as a "multifunctional teaching, play, handicraft, story and colouring book" (

DE102016005362A1.pdf).
Even "classic" accessories such as book holders (

DE102014115795A1.pdf) or reading stands (

DE202016005462U1.pdf) are constantly being developed further.
The many IP applications for digital reading that can be searched in the DPMA database DEPATISnet make it clear: the classic paper book is a an obsolescent model. Electronic readers are becoming increasingly popular and can store or download the contents of hundreds of books. But unlike readers, tablets and the like, an "analogue" book does not need a power source, is free of advertising and can still be read in a hundred years time, when today's storage media are long outdated and forgotten. The (retro-)charm of a "real" book remains unmatched anyway.
But whatever medium reproduces the text does not really matter as long as we read it at all! In this sense: Ready- steady - read! Let us protect authors, their books - and their rights!

Bilder: iStock.com/jakkapan21, Welttag des Buches / Stiftung Lesen
Last updated: 26/03/19