Inhalt
WHO World Health Day on 7 April
Health care for all
More than half of the world's population has no comprehensive access to essential health services and every year many households are driven into poverty because they have to pay for health care out of their own pockets, according to a joint report from the World Health Organization (WHO) and the World Bank. On World Health Day on 7 April, WHO therefore draws attention to the importance of universal health coverage (UHC). Her appeal: Everyone should be able to use health services - regardless of place and time and without running into financial difficulties.
At present, 800 million people spend at least 10 percent of their household budget on health expenditure on themselves, a sick child or another family member. For nearly 100 million people, these expenditures are high enough to drive them into extreme poverty and force them to survive on just $1.90 or less a day.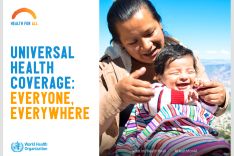 WHO "Universal Health Coverage" campaign 2018
Against this background, the WHO is presenting World Health Day 2018 under the motto "Universal Health Coverage", thus drawing attention to the need for health care for all. UHC according to WHO covers the entire spectrum of health services, from health promotion, prevention and treatment to rehabilitation and palliative care.
People must be protected from the financial consequences of paying for health services out of their own pockets. This reduces the risk of people being forced into poverty because unexpected illnesses force them to spend their savings, sell or borrow assets - and thus destroy their future and often also that of their children.
Good health, according to the WHO, enables children to learn and adults to earn their living, helps people escape poverty and forms the basis for long-term economic development. World Health Day is celebrated each year all over the world on 7 April with a health topic of global relevance.

Trend: Monitoring and diagnosis via Smartphone

A trend in the health care system can be seen in applications for industrial property rights at the DPMA: More and more inventions serve to prevent and monitor the state of health. Smartphones in particular are increasingly being used as early warning or diagnostic instruments.
One example is the "multi-sensor platform for non-invasive monitoring of physiological parameters and blood constituents as well as early diagnosis of pathological changes and health management", which makes use of an "intelligent smartphone cover", among other things (

DE102016006196A1.pdf).
Another example is the "system for conducting a remote physical examination", which communicates wirelessly and independently from patient to doctor (

DE202016105331U1.pdf).
The "health risk indicator determination", a method for processing heart rate data that also measures oxygen uptake and activity data, has a similar purpose (

EP000002921105B1.pdf).
The "device for generating a risk metric for soft plaque in vessels and machine-readable medium for this" goes even closer to the heart (

DE102007056256B4.pdf).
These and many other inventions related to health can be found in the database of the DPMA, DEPATISnet .

Pictures: WHO
Last updated: 26/03/19