Inhalt
It's all just stolen

The main prizewinners 2019; each left Original and right Fake
Anti-award "Plagiarius 2019" tackles blatant counterfeits
This year's "Plagiarius" awards were presented at the "Ambiente" consumer goods fair in Frankfurt on 8 February. For the 43rd time since 1977, Aktion Plagiarius e.V. has presented the dreaded Plagiarius anti-award to manufacturers and traders of particularly brazen copies and counterfeit products. It aims to raise public awareness of the coarse and unscrupulous business practices of counterfeiters and brand pirates and to draw the attention of industry, politicians and consumers to this problem. At the same time, the association emphasises the importance and effectiveness of IP rights.
According to the EU Commission, the European customs authorities seized more than 31 million infringing products with a total value of over 580 million euros at the EU's borders in 2017 alone. The statistical data of the customs authorities only take into account goods which were intended to be imported from third countries into the territory concerned (e.g. the EU) and do not cover infringements within that region. Unfair counterfeits are frequently produced, marketed or even commissioned in industrialised countries, too. Often by competitors lacking ideas or former manufacturing or sales partners. Competitors carefully check whether IP rights exist. If no such rights are registered, designs and technical solutions made by others are passed off as one's own achievements. This is confirmed by the experience of both Aktion Plagiarius and the Mechanical Engineering Industry Association (Verband der Deutschen Maschinen- und Anlagenbauer – VDMA). In the current VDMA counterfeiting report, China was clearly the number one country of origin for counterfeit products. Nonetheless, Germany ranked second again with 19% and Italy third with 18%.
Interview with Christine Lacroix, Aktion Plagiarius e.V.
DPMA: For over 40 years, Plagiarius has stood for particularly brazenly fake goods. The first thing a consumer thinks of are street traders on tourist markets. That is probably only the "tip of the iceberg". Where do you have to expect today that a particularly cheap bargain might be a fake?
Christine Lacroix: On the Internet. The problem of counterfeiting and brand piracy has developed rapidly in the age of globalisation, digitisation and the Internet.
This means that the trade in counterfeit products has further increased in recent years?
The scale is much greater than it was 20, 30 or 40 years ago when we started. Today, as a result, customs seize huge quantities of counterfeit goods, both from containers entering by sea and from air cargo. And, of course, the many small parcels that result from Internet orders placed by consumers. The Internet in particular makes it very easy for counterfeiters.
In what way?
Counterfeiters can offer goods globally around the clock on the Internet. Usually, they directly use the photos of the original manufacturers, so that the whole thing gives a professional impression, and add a tempting bargain price – and there is a very pronounced bargain mentality in Germany and Europe. Many consumers think: What matters most is that it's cheap! And then they click much too fast and uncritically on "Buy". However, it is important to check carefully whether it is a genuine offer.
What should consumers pay attention to?
First you should check the website: Do the structure, texts, photos, URL appear reputable? Is there an imprint? What about terms of payment and cancellation? We strongly warn consumers not to pay in advance. In particular, if only advance payment is possible due to "technical reasons". Then you should back out very quickly. Now there are also various certification seals, for example for dealers who are authorised by manufacturers: Are there any such certification seals? What about customer reviews? Also important: use your common sense.
Which business sectors are particularly affected by counterfeiting?
If you look at the statistics of the customs authorities, you will find mainly infringements from the trade mark area, for example clothing, accessories, sports articles, cigarettes, fake medicines, cosmetics, electrical appliances, especially consumer electronics, children's toys. The German mechanical engineering industry is also severely affected; according to a study by VDMA members, 71% of companies in this sector are being confronted with counterfeiting and brand piracy. In this sector alone, the estimated damage amounts to 7.3 billion euros per year. Brazen exact copies will be submitted for the Plagiarius competition. This design plagiarism is strongly affecting small and medium-sized companies across all industries. The classic fake brand products typically come from Asia. Interestingly, people seem to have significantly fewer scruples about adopting "only" the design or a technical solution. Here we also have many domestic European and domestic German cases where a competitor copies a rival in the same industry.
Why buy the original?
On the one hand, to support those who have new ideas and who implement those ideas with a lot of know-how, passion, experience, using quality and safety controls, entrepreneurial courage and enrich our lives with new products. In so doing, they render an "advance performance" for us. That means they depend on generating income. It is only then that they can continue to invest in the development of new products and thus secure jobs and the competitiveness of our country. On the other hand, the original – in contrast to the counterfeit product – also stands for quality and safety. Many counterfeiters rely here on cheap materials, which involve hidden dangers the consumers initially do not think of. It may be a perfume or a pill – if you don't know what the actual ingredients are, the situation may become critical. Or counterfeit wash basin faucets that contain cheap lead pipes and thus also constitute a hazard to our health. It is indeed very worthwhile to invest in the original.
How long do you think the Plagiarius award will be necessary?
What is true for other crimes or offences is also true here – there will certainly always be counterfeiting. And since the profits in this area are very high and the penalties do not constitute a sufficient deterrent, Plagiarius will certainly not become dispensable so quickly.
The main winners of the "2019 Plagiarius" award
This year's award winners show the entire range of counterfeit products. The three main prizes are awarded to:

First prize: angle-seat valve "Type 2000" (Steam applications e.g. in the textile industry)
Original: Bürkert Werke GmbH & Co. KG, Ingelfingen, Deutschland
Fake: Ningbo ACME Industrial Automation Co., Ltd., Ningbo, VR China
The counterfeiters have copied an entire product range. They infringe the internationally registered figurative mark (4 stripes) and the design which is registered in China, among other countries. The exact copy of the valve incorporates all the typical Bürkert design elements, such as the frames around the numbers on the brass valve body, so that there is a danger of confusion.
Second prizes: toy excavator "Liebherr articulated road loader"
Original: BRUDER Spielwaren GmbH + Co. KG, Fürth, Deutschland
Fake: manufacturer: Hengheng Toys Factory, Shantou, VR China
Distribution: The German distributor of the fake product has signed a cease-and-desist declaration and paid damages.
The fake is smaller than the original – but the design, technology and proportions were exactly copied. The cheap materials (chassis, wheels) and the bad workmanship (rickety, loose small parts) reflect the inferior quality.
Third prize: cast iron roasting pan "Staub Cocotte"
Original: ZWILLING J.A. Henckels AG, Solingen, Deutschland
Fake: manufacturer: Zhejiang Keland Electric Appliance Co., Ltd., Zhejiang, VR China
Distribution: Various German and European dealers have issued cease-and-desist letters with a penalty clause.
The counterfeiter has exactly copied all the characteristic design features of the original; however, the fake is not made of high-quality cast iron, but of cheap aluminium and costs only a tenth of the original. The original roaster was recognized as having competitive originality.
Further distinctions were awarded to the fakes of the following products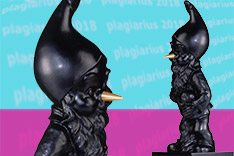 Busch-Presence detector "KNX"
"Croma Select S Multi" hand shower
"CWA 200" electric coolant pump
"Bikebasket" bicyle basket
"KLICKfix" handlebar adapter
"ECLIPSE" silicone mould (for foodstuff)
"IS 1" motion sensor
More information
More information
Background information on 2019 Plagiarius award – photos of all prize-winning counterfeit products, information on the jury and other facts on the subject of product piracy can be found on the website of Aktion Plagiarius e.V. To find out why and how small and medium-sized enterprises in particular can protect their intellectual property, visit our SME information pages.

Pictures: Aktion Plagiarius e.V. (www.plagiarius.com)
Last updated: 13 November 2019