Inhalt
Ideas & patents around Easter

Without breaking and frustration: relaxed painting of Easter eggs

In many places around the world people are now celebrating Easter. Whether with a Christian background or not: for many people, the Easter Bunny is a part of the holiday, for it brings sweets and eggs. And a colourfully decorated Easter bouquet is a must for many, too.
After all, around 44 percent of Germans paint their Easter eggs themselves. Before that, however, every single egg has to be accurately pierced at both ends with a pointed tool and then blown out. But often the egg breaks. For all those who are afraid of these complicated preparations there is good news from our patent document fund. For example the utility model (DE 20 2006 018 880) - Device for emptying eggs. The description says: "The invention is based on the task of specifying a device with which the emptying of eggs can be carried out simply and safely."

Egg-blowing the easy way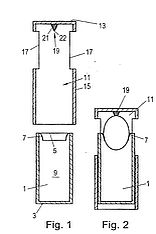 This is how the problem is solved (according to

DE 20 2006 018 880): "The device for emptying eggs has a collecting vessel with a seal in the area of its upper opening and an upper part that can be pushed telescopically over the collecting vessel. A piercing mandrel is provided on the upper transverse wall of the upper part pointing inwards. With the aid of the piercing mandrel, an egg placed in the area of the mouth of the collecting vessel can be pierced at both ends. As soon as this has happened, the air inside the collecting vessel is heated. Place the egg, which is perforated at both ends, on the seal in the area of the mouth of the collecting vessel and wait until the egg white and egg yolk produced in the interior of the collecting vessel have been sucked out of the egg through the lower opening in the egg shell." Nothing more stands in the way of egg decoration and the Easter bunny may come.
And even more decoration ideas for Easter

You can find lots of patented ideas for Easter online in our patent document archive DEPATISnet, for example a vase with picture frame function (

DE 20 2007 007 802), egg-shaped baking pans (

DE 20 2009 005 415) or an Easter calendar (

DE 20 2015 002 474 ). And maybe you also have some brilliant ideas for Easter. Then, as with any invention, first register, then talk about it. You can find out how you can best protect your ideas on our beginners' pages, for example.

Bild 1: iStock.com/RomoloTavani, Bild 2: DPMA
Last updated: 11/04/19