Content
Girls' Day at DPMA
Vice-President as a role model:
Christine Moosbauer encourages schoolgirls to take up technical professions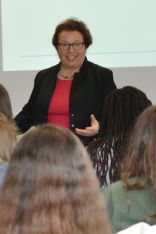 DPMA Vice President Christine Moosbauer at Girls' Day
The figures are impressive: a university auditorium with 900 new students of electrical engineering - exactly four of whom are women. This is what happened in 1975 at the Technical University of Munich, says DPMA Vice-President Christine Moosbauer. She must know, because one of those four women was herself. Female students in technical disciplines were in a minority even more so than today.

A communications engineer, 30 schoolgirls whose careers are still completely open: this is the situation last Thursday in Room 1006 of the German Patent and Trade Mark Office (DPMA). The DPMA has invited to Girls' Day. The students get to know patent examiners, develop their own machines and test virtual reality glasses. And the Vice President is available to answer questions from the young guests. She tells us that technical professions are more exciting than some young people think. That you have the best career prospects with a technical education. And above all from the fact that you can of course also go far as a woman, in this supposed male domain.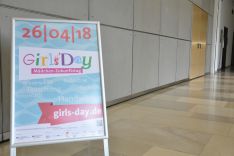 7th and 8th grade students listen with interest. She has always had an interest in technology, says Christine Moosbauer. In her parents' small farm she used technical equipment at an early age. "My mother repaired her washing machine by herself, just like that." Moosbauer studied engineering, worked ten years in the medical technology sector, then in 1992 she moved to the German Patent Office, as it was called back then. There, Moosbauer became a consultant, patent examiner, head of IT department and later of the Information Department. Now Christine Moosbauer has been Vice President since last year. What does she like best about the engineering professions? "You often work very practically and can solve problems," she says.
The questions to the Vice-President are also very specific. Do I need an Abitur (A-level high school degree) to work at the DPMA? That depends on the position, says Moosbauer. A patent examiner needs a high school diploma, a technical degree and at least five years of professional experience. Abitur is not absolutely necessary in other positions. In which subjects do you have to be good to become an engineer? "It certainly doesn't hurt to be good at mathematics and physics," says the Vice President. Embarrassed looks and laughter in the hall.
Future engineers present?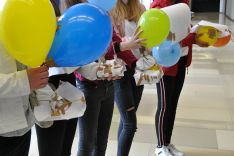 The students and their self-constructed "Egg Flying Machines"
In the afternoon the students can test their self-made inventions. Five egg flying machines made of cardboard, cords and balloons, but in different designs. The goal: Drop an egg three meters into the depth without breaking it. One aircraft after the other sails down from the gallery on the first floor into the DPMA foyer. At least three eggs stay in one piece. "All very sophisticated constructions", praises Christine Moosbauer. Maybe one or the other future engineer is actually here.
Pictures: DPMA
Last updated: 26 May 2023