Inhalt
Beelitzer Spargel

What Beelitzer Spargel has to do with Europe
"United in diversity" – this has been the motto of the European Union since 2000. It expresses how Europeans strive together for peace and prosperity, while at the same time the entire continent is being enriched by its many different cultures, traditions and languages. These include, for example, the excellent regional specialties among agricultural products and foodstuffs. Who does not know Nürnberger Lebkuchen (gingerbread), Spreewälder Gurken (cucumber), Französischer Champagner (champagne) or Prosciutto di Parma (ham)? A total of about 1,400 protected indications of geographical origin are registered, 90 of which are from Germany alone. Protected indications of geographical origin constitute a Europe-wide IP right. The legal basis is the Regulation (EU) no. 1151/2012 with the German implementing provisions in Sections 130 to 136 Trade Mark Act (Markengesetz). By the way: For wines, the special provisions of Regulation no. (EU) 1308/2013 apply.
A total of six protected asparagus varieties come from Germany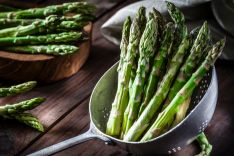 Recently and in keeping with the asparagus season, Beelitzer Spargel has been registered as protected geographical indication (PGI). This means that products labelled as Beelitzer Spargel must consequentially contain Beelitzer Spargel. The vegetable from Berlin-Brandenburg is the sixth asparagus variety coming from Germany, which is listed in the EU's Register of protected indications of geographical origin. Other protected asparagus varieties include Bornheimer Spargel, Walbecker Spargel, Fränkischer Spargel, Abensberger Spargel as well as Schrobenhausener Spargel. At least one protected asparagus variety, Marchfeldspargel, comes from Austria and another one, Vale of Evesham Asparagus, is from Great Britain.
Asparagus season lasts until 24 June, which is also known as Spargelsilvester (meaning "New Year's Eve of Asparagus"). So there is enough time left for you to enjoy Beelitzer, Bornheimer, Schrobenhauser or Marchfeldspargel in Europe. Ideally, you should combine it with a traditional Sauce Hollandaise, Prosciutto di Parma (ham) and a crisp white wine from the Saale-Unstrut region or one of the numerous protected wine-growing areas in Europe.
Background information: protected designations of origin and protected geographical indications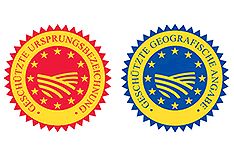 There are two different categories of protection, these are

protected designations of origin (PDO), e.g. Allgäuer Sennalpkäse
protected geographical indications (PGI), e.g. Thüringer Rostbratwurst
In both cases, the name in question must be used by the producer to designate his product. The origin of the product itself must be a specific place, a specific region or a specific country. An essential requirement for protection is the link between the properties of the product in question and its production in the region of origin.
For protected designations of origin, the link must be particularly close, i.e. all production steps must take place in the place or region concerned. However, for protected geographical indications, it is sufficient if at least one of the production steps takes place in the geographical area of origin and the quality, the reputation or another characteristic of the product is essentially attributable to its geographical origin.

How registration of a protected geographical indication works
The application for registration of a geographical indication/designation of origin must be filed at the DPMA. The examination is conducted in two stages, first by the DPMA and then by the European Commission, which also carries out registration. Detailed information is available in the information leaflet "Information on the protection of geographical indications and designations of origin" [

W 7729.1]
The products from Germany, which have been registered or applied for, can be viewed in DPMAregister under the tab "Indications of geographical origin". Indications of geographical origin from all over Europe can be found in the DOOR database maintained by the EU; protected geographical indications, designations of origin and traditional wine terms from all EU Member States are stored in the E-Bacchus database.

Picture 1:iStock.com/EduardHarkonen, Picture 2:iStock.com/fcafotodigital, Picture 3: DPMA
Last updated: 26/03/19