Inhalt
Conventions and conferences
Infoday: Managing Intellectual Property for Start-ups with migrant and refugee backgrounds
On 22 October 2018, the

"Infoday: Managing Intellectual Property (IP) for Start-ups with migrant and refugee backgrounds" will take place at the DPMA-IDZ Berlin together with "SINGA Deutschland" and "Start-up-your-Future" in the framework of the VIP4SME project especially for people from the start-up scene with migration and refugee backgrounds.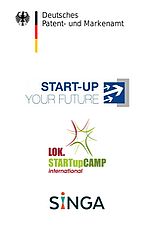 Have you fled to Germany and have little or no knowledge of intellectual property? Would you like an introduction to patent, trademark, design and utility model protection rights? Perhaps you would like to bring registered intellectual property rights with you to your new company to be founded in Germany? Then the information event will tell you what you can have protected and how you can integrate IP into your company, use it and increase its value.
With "SINGA Deutschland" and "Start-up-your-Future" we were able to win two organizations which will present in the second part of the Infodays how they accompany refugees in the successful implementation of a business idea, for example by arranging sponsorships for start-ups.
When? Monday, 22.10 Monday, 22.10.2018
Where? German Patent and Trade Mark Office Berlin, Gitschiner Str. 97
Contact: pu.service@dpma.de
Participation is free of charge and without prior registration. A photo ID is required to enter the office building in Berlin.
---
Events 2018
For further information please have a look at the corresponding German website.
Last updated: 22/10/18